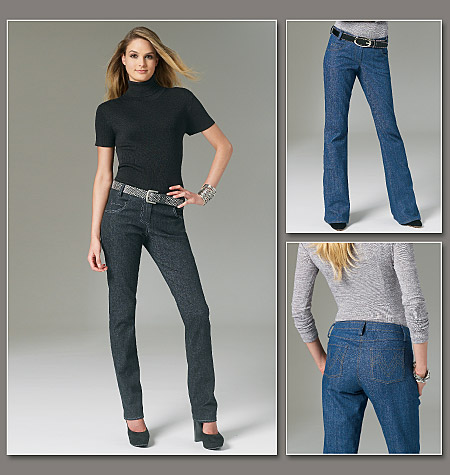 Fitted, tapered or straight-legged jeans (below waist) have shaped waistband with hook/eye closure, carriers, front/back pockets, back yokes, and binding for front fly zipper closing. Topstitching and narrow hem.
Here is pair 1:
Here is pair 2:
I had to make this Vogue pants/jeans pattern again. I have worn both pairs numerous times and they are so stinkin' comfortable that I want about 10 pairs in every possible color! Maybe one of these days I will make them in good old denim blue! This lovely coral is from Emma One Sock. It sewed up beautifully! It has just a little more stretch than I am used to and may have to take these jeans in a little more at the outer leg seam. I will reassess after washing and drying.
From cutting out to sewing on the hook and eye closure, it honestly took me only about 3.5 hours to make these. Not sure why they whip up so quickly other than this is probably the best fitting, most well written pattern I have used for jeans.
Cutting out I started with a 16 but with my fabric I graded to a 14 in most places, particularly the legs. If I didn't mention it earlier, I made view A or the straight leg version, same as the two previous versions I made.
I only added one row of topstitching in all the places shown on the pattern directions simply because I used white jean/topstitching thread. I thought it might be hard to get everything perfectly straight.
I did decide to add topstitching along the inner and partway down the outer leg seams along with the center back seam or butt of the pants. I also played with the topstitching on the back pockets and had some fun with it. Rivets were added in the usual places on the front pockets, including the watch pocket. I find it is much easier to add the rivets when you first use an awl to make the hole for the opening, stick the peg portion of the rivet through the hole the awl made, line everything up and then use a rubber mallet to secure it. I did make a practice rivet before applying to my actual jeans as it had been a while since I had done one.
I made these jeans about 2 inches longer than any of the other two I previously made. They are perfect length wise.
The fly goes together so well and you don't have that annoying gap that shows glimpses of the zipper pull or any of the zipper for that matter.
Speaking of pattern strengths, I still love where this pattern hits at the top of the hip bones rather than the waistline. When you sit down, no one sees your undies--which is a bonus in my book!
I love my pants. I wore them all day today and found them extremely comfortable, colorful, and fun to wear.
Thanks so much for reading!
Sue