Ok, so I made another pair of pants. I had to. When I came across this pattern, it just screamed my name and after checking out the positive reviews on-line, it was a done deal for me.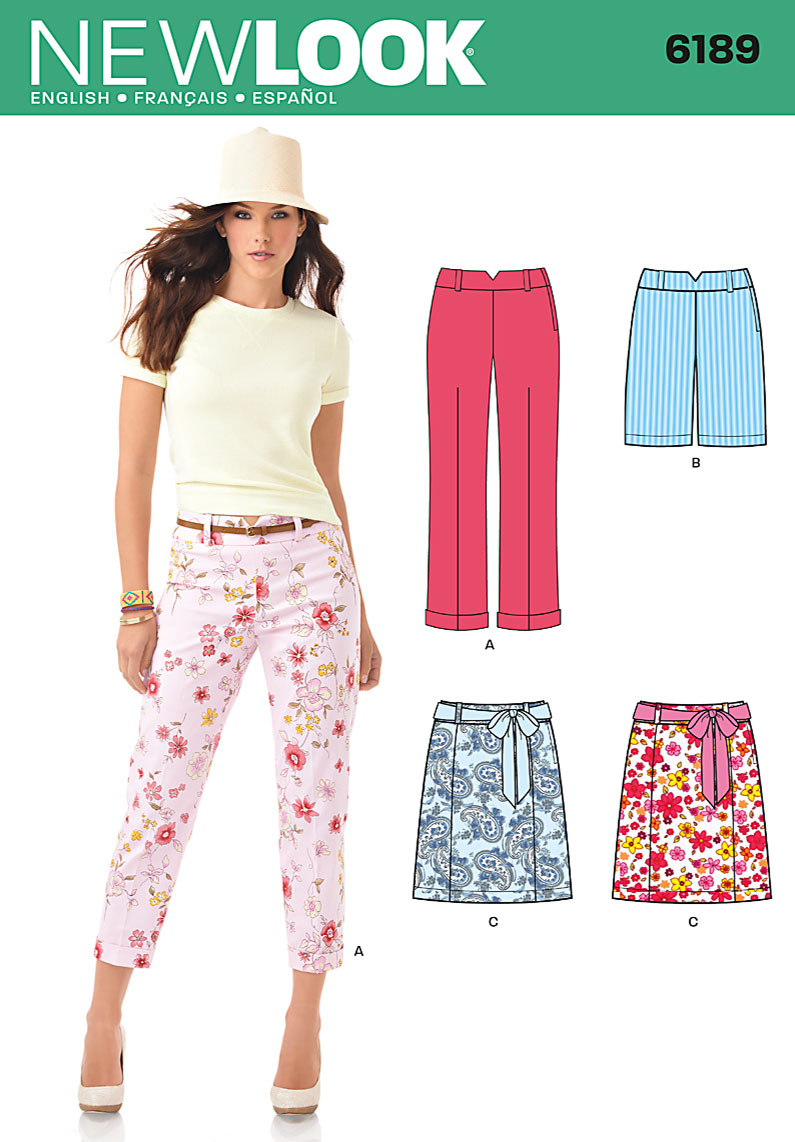 This pattern went together quickly. There really aren't that many pieces--front, back, waistband (front and back) and the carriers for the belt loops. That's it. Much easier than a pair of pants with a fly! One of the things that really drew me to this pattern was the slim style along with the split waistband in the front. I mean, both elements are super cute, right? Given the super cute floral fabric on the model, I knew a floral denim would be perfect for this. One thing that is very interesting is that there is NO description on the back envelope. I'm an experienced seamstress so I can see what is going on but come on, nothing at all?
While looking around at Hancock, I found this super cute printed denim. I told myself not to buy any additional fabric, but I had to, this was too cute to not purchase. And, I am super happy with how it performed. It washed and dried beautifully, sewed like a dream, and is just so soft! How often can you say that about fabric purchased at a big chain store like Hancock?
So in addition to the fabric, you only need some interfacing for the waistline along with a zipper. Let's talk about that dang zipper for a moment. I tried to put it in with a typical application, didn't work, meaning it looked terrible! The pattern calls for a lapped zipper but I held out. Why? I don't know. Next, I tried an invisible zipper but it didn't work well with a heavier fabric such as denim. Finally I gave in and put in the lapped zipper and yep, the pattern designer knew what he/she was talking about when giving the direction for this type of application. Next time, maybe I will obey the rules and follow the suggestion!
I found the directions logical and well thought out. If you are a beginner and have never tried out pants, this would be an easy pattern to try out. Having said that, typically I don't have to make may alterations to any pattern straight out of the envelope. With this pattern, I did! I made a size 16 even though I purchase an eight or ten in ready to wear and had to take them in everywhere! Waist, hips, and especially the legs. One thing I usually never do is let pants out at the back waist seam which I did this time. I am truly not sure if that was due to my inadvertently taking it too much of the inseam and that pulled that seam down a bit or if it was a bit low to begin with. Any way, how I remedied this was to drop the front waist seam about 1/2" and lengthen the back waist seam by 1/2". This evened everything out and now the pants fit better, are far more comfortable, and also hang nicer.
I also added one welt pocket to the left back. I had to. Plain backsides are a little boring to me.
I can't even tell you how much I ended up taking in at the side seams. I did take more out of the hips and upper thigh than anywhere else, but my goodness is the model's photo misleading! These are far roomier than how she is wearing them. I was so disappointed after I put them together and tried them on for my initial fitting. I should have know as I was cutting them out as the slim fit I was hoping for wasn't reflected in the pattern tissue. Why didn't I make a muslin you ask? My answer is simply because I am lazy. I really need to complete this necessary step more often.
Ignore the little thread I forgot to trim at the center front detail!
I am really happy with my pants. They are super comfortable and I hope to find a more exciting colored top to wear with them than brown! I thought I had a red t-shirt somewhere, but I couldn't find it. Any color suggestions are welcomed!
Thanks for reading! I love your comments.
Sue