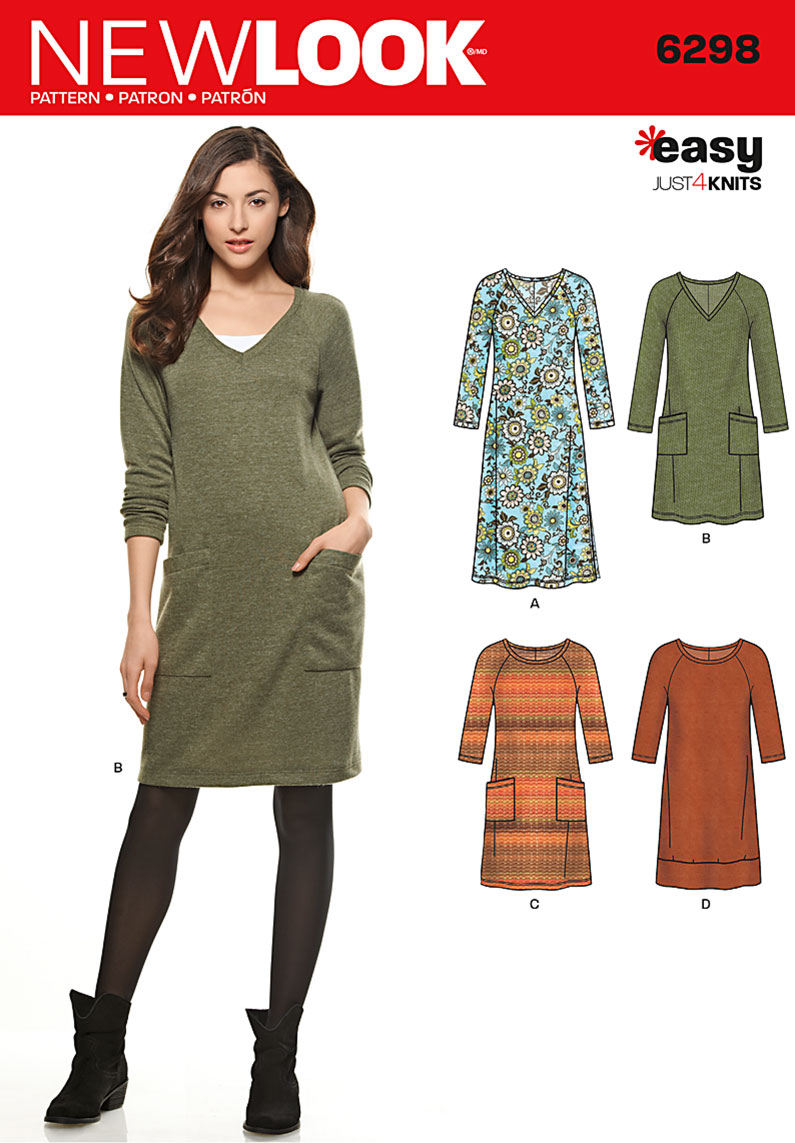 Misses' easy Just 4 Knits dress is what you are looking for this season! Knit dress with options that include v or scoop neck, long or three-quarter sleeve, pockets & cut lines for length variation.
I made view B--straight up!
Ever since I made my Lola dress (you can see it here) I have been wanting another comfy, knit dress to wear to work. I've had this ponte for quite a while and wondered what the heck I was going to do with it. I mean it's pretty and all, but the print is pretty wild and hard to match, so I did what I thought would work and pick a pattern that would work with the fabric, instead of vice-versa.
This ponte is nice, and the print is fun, especially if you like florals, which I do! Pontes are so nice to work with and sometimes you want more than a solid colored garment. I hope manufacturers will continue making more prints out of this wonderful fabric!
So back to the pattern. As I said previously, I made view B, without any modifications to the style but of course I made a few standard alterations to the fit. :) I made my usual 5/8" swayback adjustment and could have done just a tad more. Also, after making my Bronte, one of the ultra helpful readers suggested a FBA using this tutorial. Well, I finally did it! I finally made a FBA that worked! This was super easy to do and I don't have any wrinkles or drag lines. Mind you, this dress isn't as fitted as the Bronte, but I think I am onto something with the way to make a FBA without adding a dart in a knit. Not that it is that big of a deal, especially on a busy knit, but I don't always like it on a solid. I will be experimenting with this technique more often!
So, with the instructions, I did glance at them and I only deviated from them slightly as I thought it would be much easier to hem the sleeves prior to attaching them to the dress. I knew the sleeves would be the correct length, or very close to it based on just trying them on. I also had to take it in about an inch and a half from the armpits down. I could have taken it in more but felt like I would loose the 'look' of the dress.
This is really low cut and I will always being wearing a cami or tee underneath. I like wearing layers, so it's okay. I really love the patch pockets! Awesome!
I do like this dress but can't quit comparing it to how much I LOVE the Lola! Honestly, I am not sure it is really worth the cost of the pattern if you have a casual knit dress pattern you already like.
Thanks for reading!
Sue :)