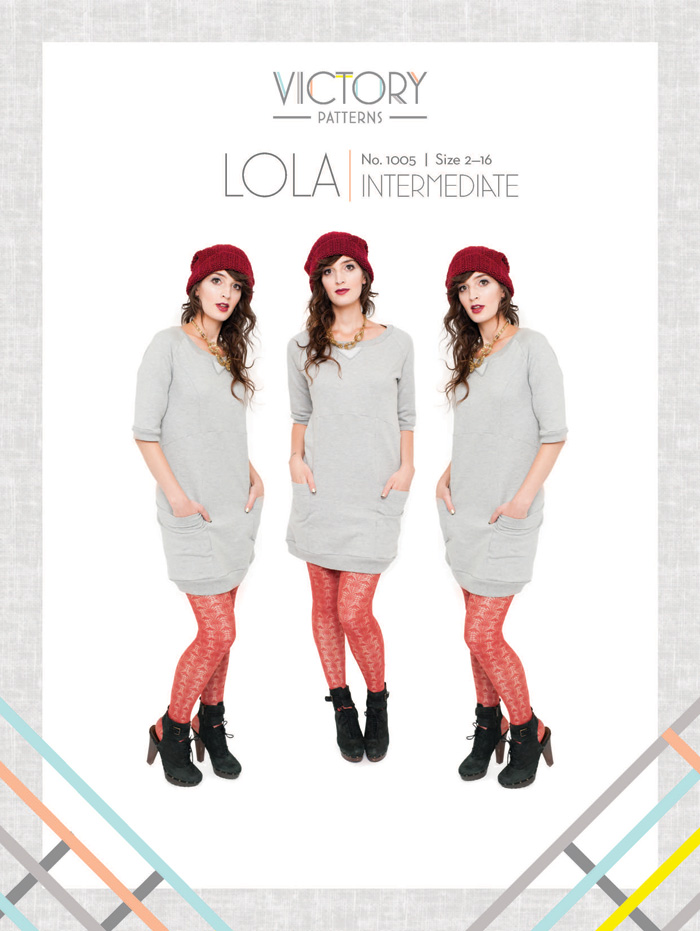 This comfortable slip on dress features raglan sleeves, ribbed hem bands, front neckline "V" detail, and oversized wrap around pockets . The curved seams give a relaxed, feminine fit. This project is ideal for a serger and is easy to wear when you want to be cozy in style!
Ever want to feel like you are wearing pajamas all day but don't want to look frumpy or out of style? Well, this pattern is for YOU!
THis is a multisized pattern. I made a medium based on my measurements but found it to run really big so I altered it quite a bit all over by taking it in at every seamline. Right now, I feel like it fits comfortably roomy, not too large but not too tight.
I just have to say that I was shivering as DH took pictures outside this evening. We are having unseasonably cool weather and I should have waited until it was a tad warmer to take the photos. Oh well!
I used this ultra fabulous ponte from Emma One Sock. It is super dark and I can't remember if I ordered dark expresso or black. All I know is this is the nicest ponte I have ever used and hope they continue to carry this wonderful fabric! It washed and dried well and sewed like a dream! After an entire day of wearing isn't all stretched out either!
I just love these oversized pockets! I didn't have quite enough yardage to make the pockets extend to the hemline nor did I have enough to make the ribbing bands at the neck, sleeve, or hemline. So, I went to Hancock as JoAnn and I aren't speaking yet, and found this super dark and luscious black spandex knit used for active wear. The ribbing wasn't anywhere close to the right color but this worked!
All seams are topstitched and with the pockets I merely turned the bottom edge up and edgestitched and topstitched to hem.
I really like how the front waistline is higher than the back which dips down a bit and is tough to see with the black fabric. It gives it some interest and details.
The instructions are super easy to follow and if you've made a t-shirt or a sweatshirt you won't have any difficulties despite the pattern being rated as intermediate. I did leave off the little neckline emblem just because of my dressier fabric choice. Had I used sweatshirt fabric, I sure as heck would have added it as it is cute!
If I hadn't made this too big, the entire thing from start to finsih would take only a few hours. Now that I've made it once, I anticipate it going together even faster!
What a great dress! I will make this again and will work on extending the sleeve length, especially if our unseasonably cool fall is any indication of what winter will be like!
Thanks for reading!
Sue