Oh goodness! My first Bronte top! I sometimes feel like I am the last one to the party but this time I just feel like I am sort of fashionably late. :) I had a lot of fun putting together this great top with such clever details!
From Jennifer Lauren's site:
Bronte is a 40's inspired knit top that you can make with long or short sleeves. What makes her stand out amongst other knit top patterns is her 40's inspired shoulder detail. The back pattern piece sweeps over the shoulder creating a 40s style shrug sleeve which you can then either leave plain or decorate with buttons or other notions of your choosing. I've always loved and been drawn to 40s patterns that feature the shrug style shoulder, so it only made sense to incorporate this beautiful detail into my favourite type of top.
You can use a contrast binding around the neckline or keep her simple by using the same fabric you're making up the body with.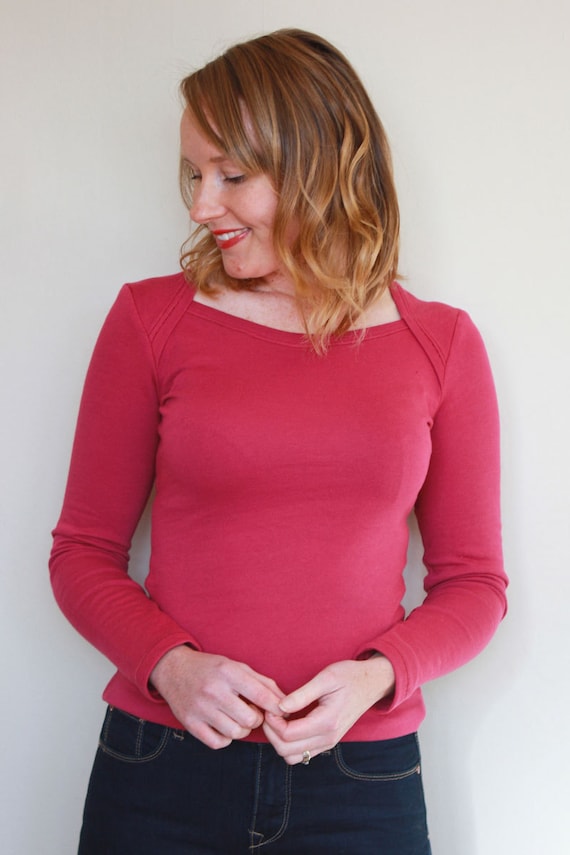 It's adorable! It uses little fabric and those shoulder details are awesome!
The fabric I used was from my stash. I sewed a straight 14, based on my measurements. I love how it fits but notice that annoying little fold of fabric at the bust. Hmm....any advice for me?
I love the shaping of the pattern and the neck bands are awesome and go together easily and professionally. The sleeves are an awesome length--I folded mine up two inches--twice with one inch each and used a stretch stitch. For the lower hem, I turned 3/4" and hemmed using the same stitch.
Start to finish was about one hour--seriously! This is an instant gratification project with awesome results. I love that I used stash fabric and that it matches my favorite gray jeans!
Yes, I will be making more of these!