Here is my rendition of Vogue 8854. This is such a great pattern, it has so many possibilities!
I really like the version on the model: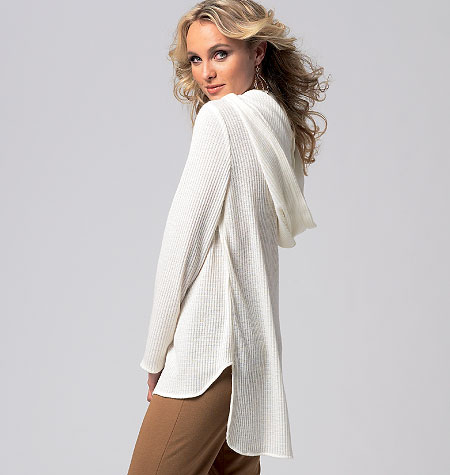 If it wasn't for this picture, I would have never even considered purchasing this pattern. Look at the boring envelope:
The lines are great, yes, but jazz up your envelopes, please!
Pattern Description from the envelope:
Loose-fitting, pullover tunic has have (I believe they meant half) collar or hood, shaped hemline, narrow hem and snap closing. Topstitching. Wrong side shows on hemline and hood. B. B, pocket. B. C: Button and self loop. Yes, I have B listed twice, but that is another typo. Proof read your work people! What isn't listed is that B has a kangaroo pocket. Pretty cute!
This pattern is listed as very easy and yep, it is just that!
Fabrics: Moderate stretch knits. Jersey, sweater knit. I highly recommend using a drapey fabric to get the right 'look'. This fabric is rather thin, just meant for layering.
Notions: A, B:Interfacing, four snaps. C: two-snaps. B, C: One 1 1/2 inch button
Sizes: Y (XS, Small, Medium) ZZ (large to X-Large)
I made view C in a size medium. This is loose fitting, so I highly recommend measuring before cutting out your fabric.
What did I like? Dislikes? This pattern seems drafted well. Instructions were more than adequate. The hood is really big and long. If you are petite, check the size on it as you don't want it past your waistline, or at least I wouldn't!
What I didn't notice at first is that the hood is not cut symmetrically. I cut it symmetrical but it was too large for the neckline--even though step 27 clearly shows that one side of the hood is smaller, I simply didn't pay attention to that as I was cutting it out. The pattern piece has it clearly marked where to cut for the smaller size. Definitely operator error! Once I figured it out, it was of course an easy fix.
Dislikes? Just the say they wanted you to set in the sleeves. I ignored that step and sewed them in flat and then sewed the side seam.
Fabric used: This fabric was from my stash and is a rayon crepe. I love the deep purple the way it hangs, and how light weight it is. I purchased it from Fabric Mart a while back.
Modifications? I made my usual 1/2" sway back modification. I pinch out 1/2 inch at the back waist line and taper to nothing at the side seam. I had the back longer than the front, just like the pattern view, but thought it looked funny on me. So, I chopped it off so the front and back are even steven. My serger was in the shop, so I ended up using french seams on the entire garment. It worked beautifully! As other reviewers have noted, the sleeves are really long. I am 5'7" and usually RTW sleeves are slightly too short for me. These sleeves however are really long. I shortened them an inch.
Recommend to others? You bet, this pattern is super easy, has enough variety with the types of fabrics and the three different views. Just use your imagination!
Conclusion: This is super easy, fast, has great directions (both written and visual) and is fun! If you want something with a little more shape, taper in the waist line. It won't be difficult at all to make this modification.
Thanks for reading!
Sue