Oh my, these are SO cute! I found out a few weeks ago that I am going to be a grandma for the first time and I got busy! The baby isn't due for about 6 months or so, but I have a stack of patterns to whip up for the little one!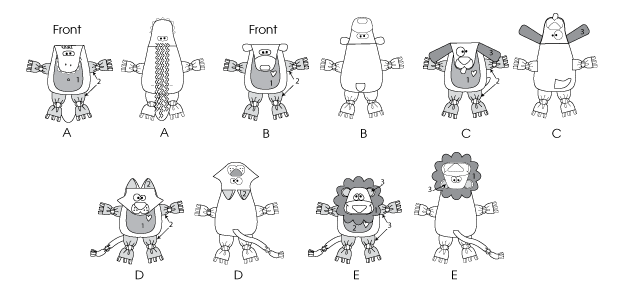 These are smaller than you'd imagine, just right for cuddling. I think the best description I can come up with on my own is that they are like a stuffed animal, without the stuffing. Here's a description from the back of the envelope: Blankies: Five 9.5" W X 24" long animal blankies. Alligator Blankie A., Bear, B., Dog, C., Cat, D., Lion E. All views have contrast sections and belly. So you can see the relative size compared to a child, I found this photo online.
These blankies are designed for medium weight fleece. You need some batting, and some contrasting cotton for the appliques.
This pattern doesn't have a rating, but I would rate it as easy. A beginner could pick this up and complete all the animals with no difficulty. There are however quite a few pieces for a few of the animals such as the lion. The gator has the fewest pieces. I would estimate for me to cut out and create all five animals was about 8 hours. Not bad, I am not the fastest sewer in the world. If you are speedy, you could do this in much less time. The gator only took a little over an hour while the lion was over 2.
Instructions were very easy to follow with great illustrations.
I made a few modifications based on fabric choices. For the cat, I used minky. Wow, it is so unbelievably soft! I wish I would have made all the animals out of minky! The others I used fleece.
The alligator's teeth are made of jumbo white rickrack. How clever, huh? The alligator also needs rickrack for his back. The pattern envelope calls for ribbon for the toe nails, but I used bias tape as I couldn't find ribbon I liked. Plus, I hope these are well loved, and I would presume bias tape would last a little longer than ribbon. You can hand embroider things like the eyes, lion's mouth if you'd like, but I either appliqued black fabric for the eyes and machine stitched the mouth so I didn't have to hand embroider. These are baby safe as there are no buttons to swallow or anything loose.
For the lion's mane, I used some of the left over minky. It makes a nice contrast with the fleece's soft yellow color.
I had a lot of fun searching through my stash for the perfect contrast fabric.
I used 100% cotton batting for the insides. You only line the body and head with the batting.
Best of all is that these are completely machine washable! Yahoo!
I included a picture of the animals I created. Can't wait to give them to my little grandchild!
Thanks for reading!
Sue