Here is my latest creation: McCall's 6513. This is a Palmer/Pletsch pattern, or pattern that fits. There are various reviews on Sewing Pattern Review that seem to be both positive and negative. I loved it!
Here is my review and experience with this pattern.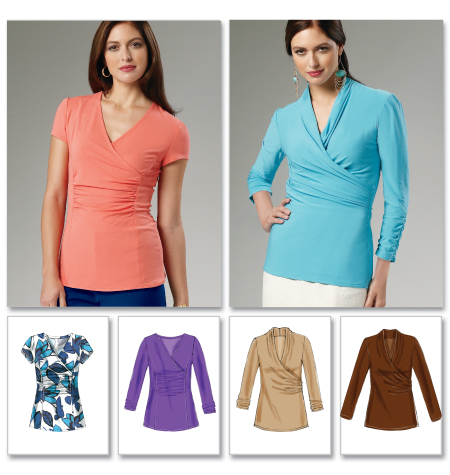 Here is the picture from the envelope. I will save my comments for later. :)
Back of the envelope says this: Misses' tops: Close-fitting, pullover tops. A, B, C, D have gathered front and narrow hem. B, C, sleeves and C, D, back collar. Elasticized.
Fabric recommendations are for Jersey, cotton knit, spun silk knit, matte jersey.
I chose to make view D, long sleeves, draped on the side. I used a soft and sparkly knit from Gorgeous Fabrics. This was a selection from my first purchase from that site and I am pleased!
Palmer/Plestch give an extraordinary amount of directions for such a simple pattern. As other reviewers have noted, it is rather silly to pin fit the tissue on your for fitting when the finished garment is made of a knit. Hmmm....if you are really concerned about the fit, make a muslin and skip all that nonsense.
Everything went together well, fast and easily. all the notches match up and the pattern is well-drafted.
Like other reviewers, I didn't set in the sleeves but sewed them flat and then stitched the sleeve and side seam in one fell swoop.
I am 5'7" and love the length. If you are shorter or taller, check the length of the sleeves and hemline.
I really like the neckline drape. It is comfortable and didn't seem to gap. I hope that stays true as I move around a lot at work.
I highly recommend this pattern!
Thanks for reading!
Sue