I think that once a week I am going to try and plan for a Saturday/Sunday stash buster where I use either a piece of fabric I've had for an embarrassing amount of time or a pattern that keeps getting pushed to the side. So this past Saturday I started with this piece of fabric that I've had for at least a year.
I purchased it from Marcy Tilton and it is a digital print in a very light weight cotton that has the weight and feel of a lawn. I am not sure why I hung onto it for so long as I thought it was so pretty when I purchased it. I promptly washed and ironed it and stored it in my stash closet. I rediscovered it a few days ago and wondered what I had in mind when I decided I must have it. Do you ever have purchases like that? I am sure I had a plan in mind but for the life of me I couldn't remember what it was.
So, now onto the every growing pattern stash. I choose Butterick 6057 simply for the sleeve detail and I thought I could use the border and graphic print to showcase the fabric. I have to say while I think this top if fine, it is just fine in my book: nothing to get overly excited about and I am almost disappointed in how it turned out. What do you think? I mean, it's just okay in my book. Sort of meh.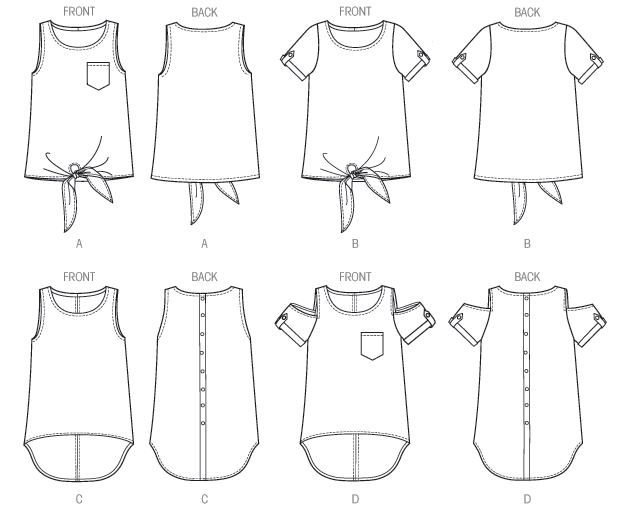 I spent some time auditioning the pattern pieces onto the fabric to figure out how I wanted the final fabric placement to be.
I finally decided to cut it out on the crossgrain and use the lighter portion at the bottom and the dark black at the top.
This was a super simple pattern to cut out and sew. The pattern description says it is fast and easy, and while it is easy, I don't think it was all that fast based on all the self-fabric bias cut bindings and the narrowing hemming.
before pressing into shape
The right half is pressed. See how nicely it has molded to the shape of the fabric?
Of course I serged the raw edges.
After pressing and prior to edgestitching to keep it from rolling
Edge stitching to keep it from rolling. I use my edgestitch foot specifically made for my Bernina. Love this!
I am a HUGE fan of self-fabric bias bindings. I know they are more work, but look at how lovely the fabrics mold together. Had I used purchased bias trim for this top, they would have been so much heavier and not as conforming to the curves and such as the weights were different and at times I do think the content of the fabrics fibers make a difference as well. This is the perfect solution in my book!
As you can see, the final finished width of the bindings are a scant 3/8".
Looks like I need to wear a black bra or install lingerie guards!
This top is described as loose fitting and it is, especially through the bust, waist, and hips. It was also very loose fitting through the sleeve bands. I made view D's sleeve bands with the front tie of B. Sometimes the multi-view patterns let you have all sorts of mix and match decisions that give you a change to produce a one of a kind garment.
I made my usual 1/2" swayback adjustment and wow could I have gone with more! The loose fit though is the way the pattern has been designed to look so some of this bagginess you just have to put up with. After I had everything sewn together, I knew the sleeve bands needed taken in so I took them off and decreased the top width of those by 1/2" on each side for a total of 1 inch. I could have gone more but I wasn't sure I liked this top well enough to take it apart again. Maybe it needs to hang out on my dress form Grace and I can stew about it for a while. My only other changes were to add interfacing to the sleeve tabs. I didn't want them to get all droopy looking.
So, not sure what I think of this top. It's okay. I know my unconventional fabric choice probably didn't help matters, but when you are working with your stash, that's what happens.
Thanks for reading! I do appreciate your comments!
Sue