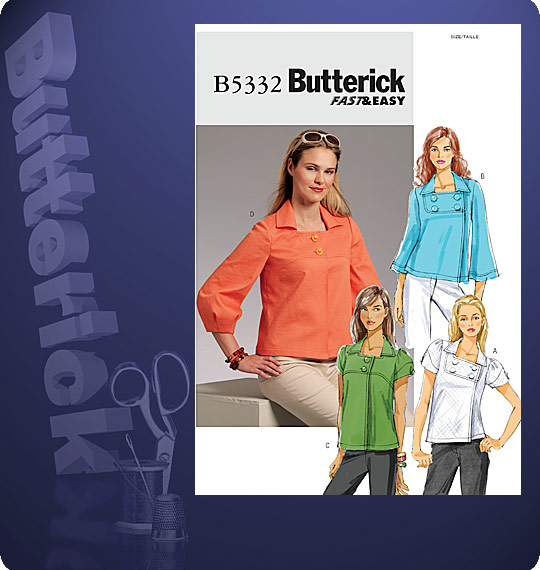 Pattern Description:
This is a Very Easy Butterick Jacket I made last summer that I totally forgot to review! I actually forgot about this little jacket in my closet until I made up the skirt I will review next. The colors matched really well!
Here is the description from the back of the envelope:
Loose-fitting, unlined jackets, A, B, C, D slightly below waist length has collar, front variations, single or double breasted front button closures and stitched hems. B, D, elbow length sleeves. D, stitched pleats in sleeves. The description is pretty accurate.
Pattern Sizing:
This is a multi-sized pattern, I made a size 14 and am happy with the fit.
Did it look like the photo/drawing on the pattern envelope once you were done sewing with it?
I think it does! I made view C, in case you can't tell. :)
Were the instructions easy to follow?
Yes, great instructions. Actually, a great pattern with some very RTW details!
What did you particularly like or dislike about the pattern?
Loves:
The styling. This jacket isn't the run of the mill jacket. It has some distinct style. This is perfect for either lightweight summer cotton or even a wonderful wool for winter.
The back facing is rounded and then detailed on the finished garment with topstitching. You can see the yoke from the jacket inside here:
The sleeves are lined and have this cute little loop and button detail. I love the sleeves!
I also love how the yoke pieces cover many of the inside seams. Very professional looking and upscale RTW.
Dislikes:
None! I love every detail about this jacket.
Fabric Used:
A super wonderful cotton from Heather Bailey. Love her cotton prints! And, who doesn't love polka-dots? I did use an interfacing I regret ever laying eyes on. It was shirt fuse or something like that from JoAnns. Nasty stuff. It bubbles on the fabric and I could just cry since I love this jacket and fabric so much. I just press the crap out of it and it looks okay. I now know better and only use Fashion Sewing Supply interfacing, truly the best stuff ever! I have never been disappointed in its performance.
Pattern alterations or any design changes you made:
None other than a 1/2" sway back adjustment.
Would you sew it again? Would you recommend it to others?
You bet! I know this pattern isn't the latest and greatest, but it sure is cute and a classic--as far as I am concerned.
Conclusion:
This is just a great little jacket. I love wearing it! It is perfect for spring and summer. If you don't have this pattern yet, pick it up!
Thanks for reading!
Sue