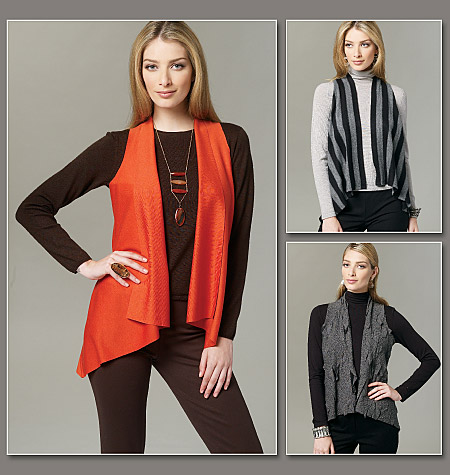 Pattern Description:
This is a Misses' vest pattern, Vogue 8777. This is a Katherine Tilton pattern and is rated Easy by Vogue. Here's the description from the back of the envelope:
Loose-fitting vest has fronts extending into collar and lower back (fronts cut on cross grain of fabric), and no side seams. Wrong side of fabric may show. A: Narrow hem. B: Raw edge Finish. Note: adjust to desired look. Just an fyi: there is no mention of view C and how it differs from A and B. What I noted on the pattern tissue pieces is that C appeared to be fuller in front than A and B. Not sure if anyone else noticed any other differences, that is my take on it.
Pattern Sizing:
This is a multi-sized pattern and since it is loose-fitting, it comes in XS to M in one envelope and L to XXL in another. I made a medium and am pleased with the fit.
Did it look like the photo/drawing on the pattern envelope once you were done sewing with it?
Yes, mine does. I only made slight modifications to the finishes.
Were the instructions easy to follow?
Super easy instructions with great visuals. Everything is logical and explained well. No issues whatsoever!
What did you particularly like or dislike about the pattern?
Loves:
1. This goes together fast and it is sort of fun to put together. There are only three pattern pieces and once in a while that is rather refreshing!
2. Notches, etc., are all well done and match up.
3. I love the length of the vest. I made view B and I think the fullness of the front is exactly what I want: not too full but full enough.
4. Love the depth of the armholes. I was a little concerned as the pattern photograph shows a rather high armscye and I detest those types of designs. If I am going to wear this throughout the seasons, I want to put a variety of tops underneath it. I think that even though I am wearing a cami, a long sleeved t-shirt will be fine as well as a short sleeved one.
5. This has to do with the arms again, and I am not sure how to explain it, but the shoulder seam seems to scoop towards the neck a bit, I love that for layering as well.
Dislikes:
1. Interfacing to stabilize the neck seam. I so much prefer to use clear elastic. It looks nicer and will last a lot longer.
2. Raw edges. I know it is common, but I just can't bring myself to leave edges raw very often. I am trying to get over this but it is tough!
Fabric Used:
I used a beautiful ponte knit from Treadle Yard Goods in Saint Paul, Minnesota. Love this store. I am so glad I don't live closer as I'd spend most, if not all, of my paycheck there on a weekly basis. Dan-ger-ous!
The pattern calls for lightweight jersey, lightweight double knit, cotton knit. Given the fit of this vest, a stretch woven would be fine and I am thinking that a regular woven would work as well.
Pattern alterations or any design changes you made:
I went ahead and serged all my edges (mostly due to my fabric), turned them to the inside and stitched 1/4" from the edges. It just seems to hang better this way.
Topstitched the two seams on the back. They just lied better that way. I believe this was due to my fabric and I could have left them alone, but there is just no way I am going to iron something every time I wear it if I don't have to and this seemed to fix that potential problem for me. Plus, I think it makes the seams look crisper.
Would you sew it again? Would you recommend it to others?
I highly recommend this to others and I am going to make this again. It is a great layering piece.
Conclusion:
I love this vest! I've had this pattern for a long time and wonder why I waited so very long to stitch it up! I can see this in a variety of fabrics and am toying with making one in lace. How cute would that be?
Thanks for reading!
Sue :)