Pattern Description: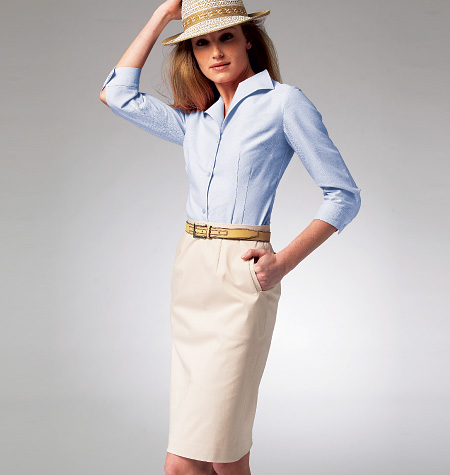 This is a Palmer/Pletsch skirt pattern. What drew me to this pattern is the welt pockets and the straight skirt styling, truly a classic in my book.
Here is the description from the back of the envelope:
Misses' skirt and pants: Semi-fitted skirt and pant (slightly flared) have contour waistband, welt pockets and invisible back zipper.
Suggested fabrics are: Poplin, Sateen, Crepe, Gabardine. You also need a bit of lining for this skirt.
This is a multi-sized pattern. I started with a 16 and not sure what I ended up with as I took it in and think I may need to take it in just a tad more, not sure yet if I will do that or not.
Fabric used:
A beautiful quality quilting cotton that is just luscious. I purchased it at Heirloom Creations in Sioux Falls.
Did it look like the envelope when you were done sewing it?
Yes, pretty much! I do however think the welt pocket placement is a little too far to the side seams, maybe...jury is still out on that!
How were the directions?
You know, directions were pretty great until I got to the welt pocket. It is so cumbersome and overly complicated. I am sure there is a mistake in the directions. I took the pocket apart three times, reread the directions three times, looked over the pictures over and over. I finally just quit over thinking it and worked backwards from what it needed to look like and made it work. I'd really like to know what others think of the welt pockets. I love the finished result, but really, there is a much better way!
Likes/Dislikes:
Ok, having complained about the way the welt pockets are constructed, I do love the final result! I am a curvy girl and I don't need any extra fabric at my side seams, so hence my love for the welts.
Length of the skirt is great! I hemmed it only about an inch. It was perfect for me. I am 5'7" so if you are a great deal taller, I'd highly recommend measuring before cutting out.
The fit is pretty darn good. One thing I like a lot about the Palmer/Pletsch patterns is the 1" seam allowances to help with fit. While I didn't need the extra in the hip area, it was sure helpful in the waistline!
Dislikes:
Other than the welt pocket construction, I'd have to say that I wasn't thrilled with the shaped waistband. Next time I am tempted to play with the layout of the waistband and may even try cutting it on the bias. This one lies great in front but the back portion of the waistband where it attaches to the zipper isn't as smooth as I'd like and sorry, but you can't see a picture of that!
Alterations/Modifications:
I added a lining to the skirt since I used a quilting cotton. I like how skirts hang when they are lined.
Recommendations?
Yes, I do recommend this pattern. I love the styling. Since I am happy with the fit of the skirt, I would like to try the pants at some point. The problem will be finding the perfect fabric.
Conclusion:
A nice pattern. If you try this, I really want to know your thoughts on the welt pockets. I wonder if there is something I am missing when it came to the construction details. I do however like how they turned out.
Thanks for reading!
Sue