So I am really, dreadfully, awfully far behind in my blogging. I have been sewing but just haven't taken the time to post which is really too bad since I feel like when I see actual photos of me wearing garments I've made, I get a better idea of whether it is a hit, a near miss, or what was I thinking when I wore this in public???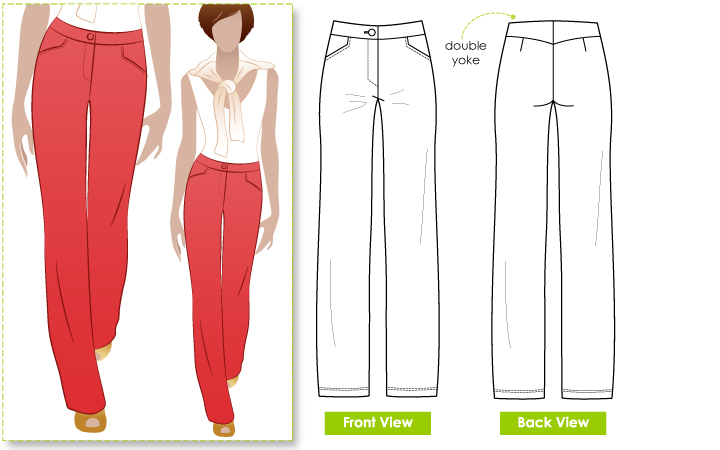 I am on the fence with these pants. I like them but the fit isn't great. It is okay, but this is the first time I have had to take a pattern in along the hips and thighs in a while. Maybe all the running I am doing it starting to pay off?
I have had this pattern in my stash for a while and have also know for a while that I need more work pants. So, I put these together in just a few hours. It is a pretty basic pants that fit okay. The legs are wider than I am used to and what makes this pattern a touch unique is the back yoke. If my derriere wasn't so flat (I am working on that) I would wear these with a top tucked in so you can see the details.
I know, I know, it is hard to see in this light. I tried to get dressed in these prior to the sun setting, but it just didn't work out.
I like these much better with my shirt un-tucked.
Directions for this pattern are really, really difficult to follow. You all know how much I love SA patterns and even for me, these were bad! There are tutorials on their website that I have utilized before and know they are helpful. I have made so many pants that I really don't need directions. I just like to glance at them to see if there is another technique I need to learn.
Having said that, if you've made a pair of pants with a real fly front, you won't have any issues creating these if you consult directions other than what is included with this pattern.
The only fitting alteration I make to SA's pants patterns is a fish-eye dart at the back upper leg. This is a slight dart and hers is how I do it. In the photo above, I cut along a perpendicular line along the upper back leg, just below the crotch line.
In this photo, I have taped the pattern piece back together. If this had been tissue paper you could have seen what I did much more clearly. You will just have to take my word for it! The overlap in the center of the leg is 1/4" which amounts to a total of 1/2". It makes a difference. If you used very stretchy fabric, you could make the dart extend all the way to the side seams and then stretch the back to fit the front. My fabric wasn't nearly that stretchy so I had to taper to nothing on the sides.
These pants are comfortable and have a nice wide waistband that sits at your natural waist.
I wanted you to see a close-up of the fabric I used as it isn't visible in the photos above. Isn't this cool? I believe I purchased it from Fabric Mart.
Thanks for reading!
What are you sewing to wear to work? Do tell!
Sue