When summer rolls around, I start thinking about what I am going to creating for fall/winter. Crazy? Probably.
I've been wanting a leather skirt for ages. I love sewing with leather. It is so soft and supple and is actually quite easy to create something that will be in your closet for as long as it fits.
My leather skirt is only partially made of leather. The other fabric I used is a rather stable ponte that was a remnant from a previous project. I hadn't really thought about how to put these two fabrics together until very recently and was so surprised that no one addressed any special techniques or tools for sewing leather to a knit. After clenching a rabbit's foot in my teeth, I experimented and I'll show you what worked for me.
Sorry this photo is upside down, but you can at least see the two fabrics I combined into one skirt.
The first thing to consider when using leather is the needle. There are specialty needles for sewing leather but I had no idea how they would work on the knit portion of my garment.
Also, I typically have a large stash of different types and sizes of needles but I realized I was out of leather ones! As luck would have it, everyone locally was out as well. I experimented and found out that universals, size 14 worked just fine, although if my entire garment was leather and none of the adjoining pieces were of another fabric, I would have panicked with a capital P! From reading about the realities of sewing with leather, I learned that the wrong size needle and type and your thread can rip out of it just like tearing out a piece of paper from a spiral notebook. No one wants that! I increased my stitch length and after sewing a sample, I tugged and pulled and that seam stayed put. Whew!
Next I decided I needed to figure out how to finish my seams. For this skirt, I knew that I would use a straight stitch, clip the seams to about 1/4", press the seams open and then topstitch. This worked just great and since leather nor ponte frays, this was a fast and easy finish that also looks professional (at least I think it does!)
I also purchased a Teflon coated foot a while back that made gliding over the leather so much easier! Easing up on the amount of pressure the presser foot applied to the two layers also helped feeding the fabric through.
My pattern choice was NewLook 6312. This is a simple pencil skirt with some nice details. When sewing with leather, if you aren't seasoned, you'll want a simple pattern with few pieces. I knew this pattern would work great with my leather and ponte fabric.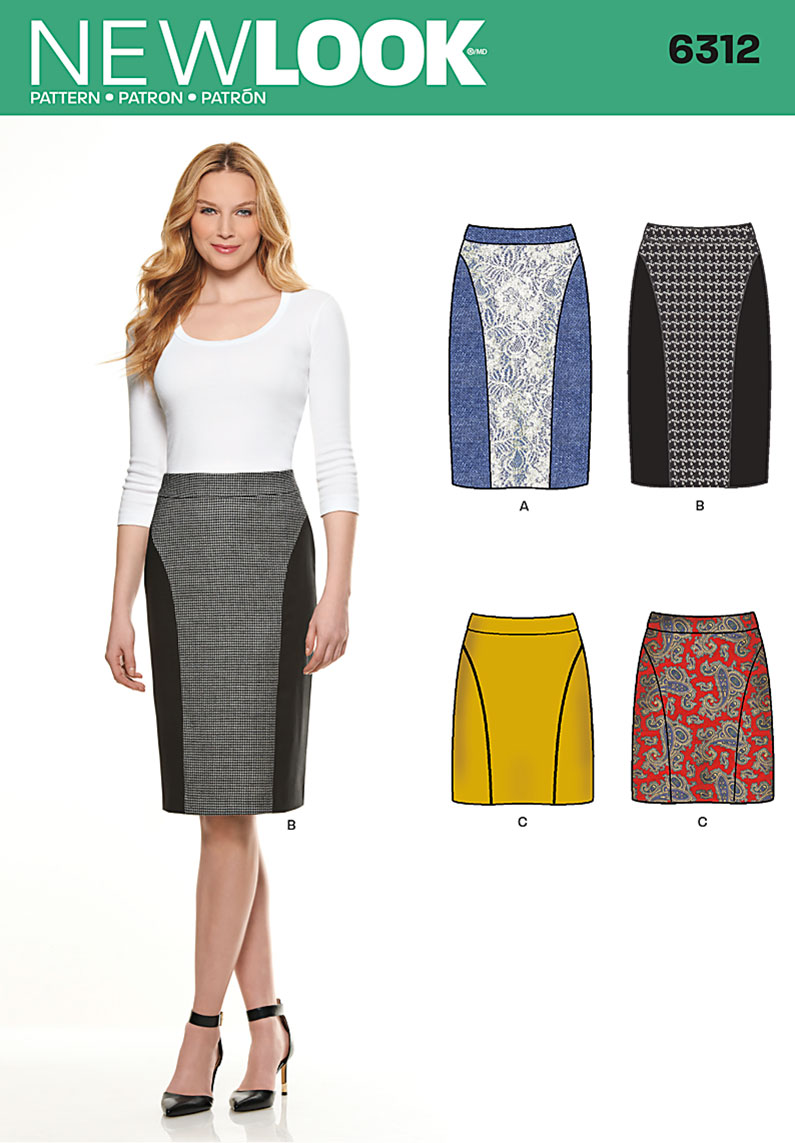 I made a muslin as one thing you MUST know with leather is that a needle hole in PERMANENT in the fabric. Yes, I know this picture isn't the greatest, but it does show how much I had to work with this skirt to get it to fit right. I used pattern weights when cutting out my skins and wonder clips to hold the edges together when sewing the skirt.
I changed this pattern up a bit by adding an exposed zipper up the back. Many patterns call for a 7 inch zip but I like to use a 9 inch one so it clears my hips more and doesn't strain the lower end of the zip.
For the exposed zipper, here is how I prepared the seam. I stitched from the hemline to the zipper notch using a 5/8" seam. Next, from the waistline to the zipper notch I stitched using a 7/8" seamline, pivoting to connect the seams at the notch. Clip the corners and then press down those little triangles along with the seam allowance. I use steam-a-seam on the zipper tape to position the zip.
I love the fit and comfort of my new skirt. It can be super casual....
Or dressier....
Black can be so hard to photograph!
Thanks for reading! I really love your comments....are you sewing for fall/winter yet?
Sue