I wore my brand new jeans from Jalie today and the pattern is the Eleonore and it's love for me!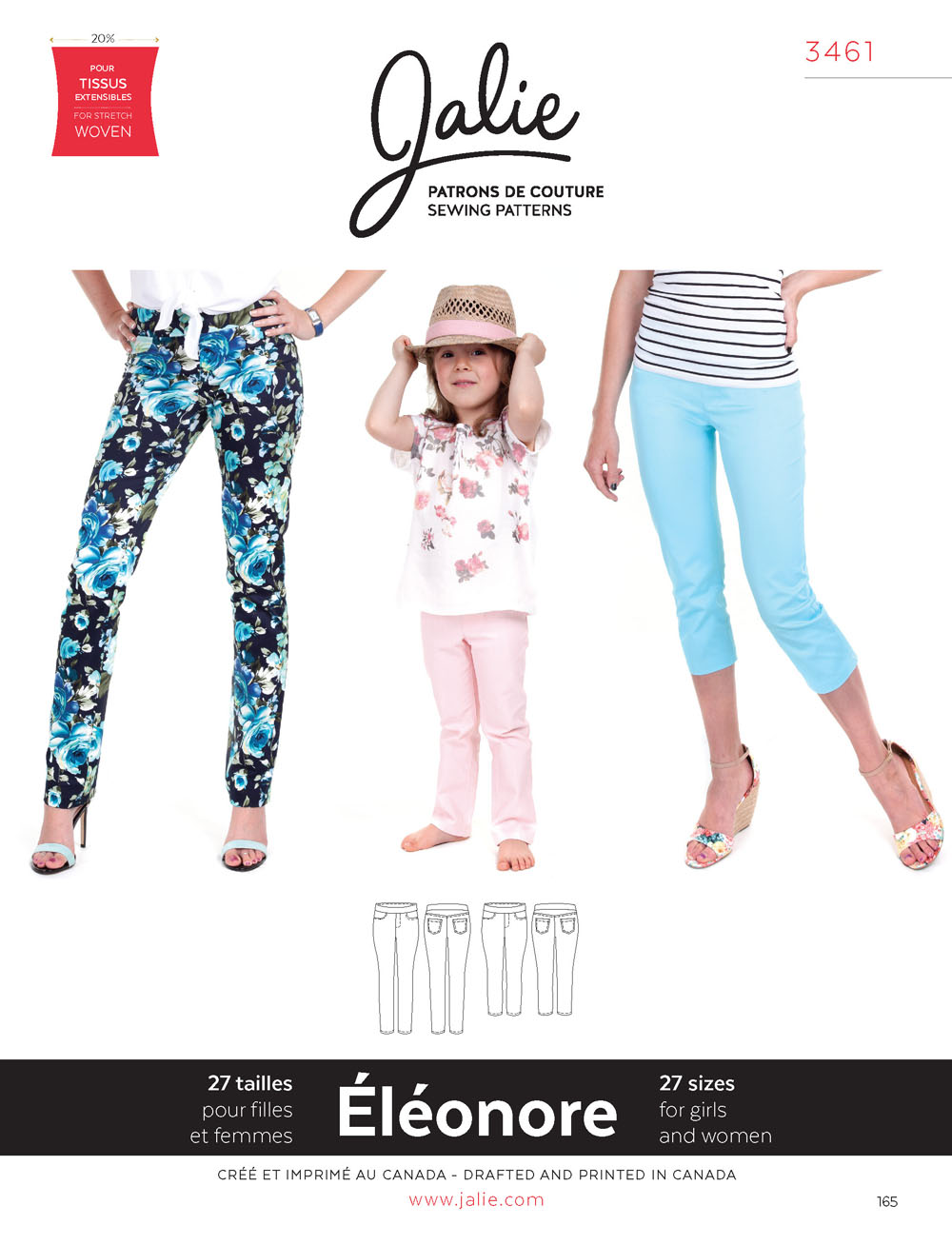 This is a new, hot off the press pattern that I scooped up as soon as I saw Cabin Baby
and Deepika's
versions on SPR...they are SO CUTE!!!
I had to make a pair of my own and here is mine!
Normally I don't like full-on butt shots, but I wanted you to see how they fit. The crotch curve is just perfect and the back yoke and pockets are very jean like styling.
The floral stretch woven is from Hancock's...I had planned on making a summer dress with it but quickly changed my mind...
One very important piece of making this pattern work is to check the amount of stretch in your fabric. Too little and these won't fit, too much and they will be a baggy mess. Your fabric must be a light or medium weight stretch twill or denim with at least 20% stretch on the cross grain. Use the guide to check...
Determining your size is rather straight forward. You need your hip and waist measurements. I made a straight up size V for a 40" hips and I think the fit is spot on! I made ZERO alterations to this pattern fit wise and am over the moon about this pattern!
I know it's hard to see the details with the busy print I used but they are pretty much put together like a regular pair of jeans although the fly is an illusion and there is an elastic waistband, not a zipper or button and no belt loops.
The directions for these are VERY GOOD and COMPLETE! I wanted to follow them exactly and did! I should get a gold star for that, since I am such a sewing rebel and want to do things my own way!
Sorry about the wrinkles, I wore these all morning and out to lunch. They aren't pulling at all, so it is simply annoying wrinkles in the fabric.
I LOVE my new Eleonore's and already have another pair waiting to be cut out. Sewing is fast and simple. I am predicting this pattern will be a favorite among seamstresses everywhere! What are you waiting for? Purchase this pattern and go forth and make pants!
Thanks for reading!
Sue