Round 2 of a classically styled jean-looking jacket.
I made this previously in a printed denim and used a completely different fabric for this round. Here is a description from the back of the envelope: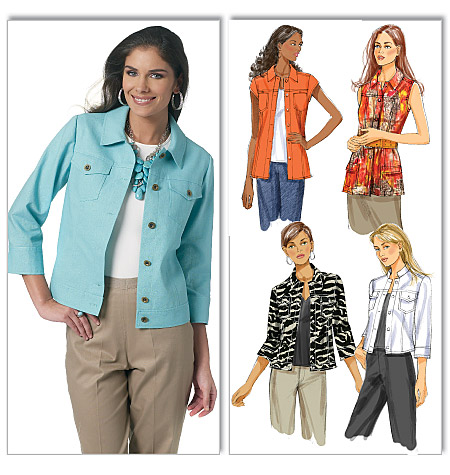 Very loose-fitting jackets A, B, C, D in three lengths have princess seams, front and back yokes, slightly forward shoulder, buttoned fronts and topstitch trim. A, B, below waist, patch pockets with buttoned flaps, three-quarter length sleeves with buttoned cuffs. A: Stand-up collar. B: collar, topstitched band at lower edge. C: Hip-length, collar, patch pockets and cap sleeves finished with bias tape. D: hip length, collar, patch pockets with flaps and armholes finished with bias tape.
I made view B this time. Last time I made view A.
Fabric:
I used a cottony, linen-y type fabric I purchased from Marcy Tilton. I can't decide if it is a deep chocolate brown, a deep gray, or a brownish-black. I had a whale of a time finding thread to use for the buttonholes! This fabric was a dream to sew and I just love the silvery-white roses strewn all over the fabric.
Likes/Dislikes:
Obviously I like this pattern since I made it up a second time. The styling is so classic for views A & B. I am sure I will hang onto it for future use.
Likes: over all styling, the bottom band, collar, cuffs and patch pockets. Although you can't see the back of it because of my hair, the collar rolls beautifully despite it not having a stand.
Boxyness of the jacket. It is perfect for this application.
Easy peasy to put together.
Dislikes:
While I mentioned this as a like, it is also a dislike--if that is possible! The boxyness of the jacket. I made an alteration to give it a little less boxy fit.
Alterations/Modifications:
I took the side seams in one inch on each side of the waistline for a total of two inches. It is still boxy, but not quite as much. I knew what I was getting into when I cut this jacket out. I only used one row of topstitching as I didn't want to distract from the beautiful fabric.
Directions:
Directions are fine except for where the front makes up the button band. The 'dot' really needs reinforced with stitching and then a clip to the dot before attaching the collar to the jacket. It is a little fiddly and if you have a ravely fabric like mine, the dot you stitch to seems fragile. I think this lack of reinforcement should have been examined by Butterick.
I attached the collar before I sewed up the side seams. I think it is much easier to put in a collar when the garment is flat.
In all honesty, I really think you could sew the sleeves in flat and then sew up the side and sleeves. They didn't need any easing at all.
Recommendations:
I do like this pattern quite a bit. I think it runs large through the body, but I have to say that I really like how it fits me in the shoulders. It seems boxy in the back above the waist despite a sway-back adjustment. Make this up in a out of the ordinary or unexpected fabric like I did and enjoy the results!
Conclusion:
This is a great pattern with an ugly cover. It is a classic and I am going to make a long sleeve version soon out of regular blue denim!
Thanks for reading!
Sue