Pattern Description:
Here's what the back of the envelope says: Misses' knit tops. That's it! Here's my version: Misses' close-fitting tops in two different styles and three sleeve lengths. A, B, C has front cross-over detail and D & E have off-shoulder sleeves (That's how I describe it anyway!)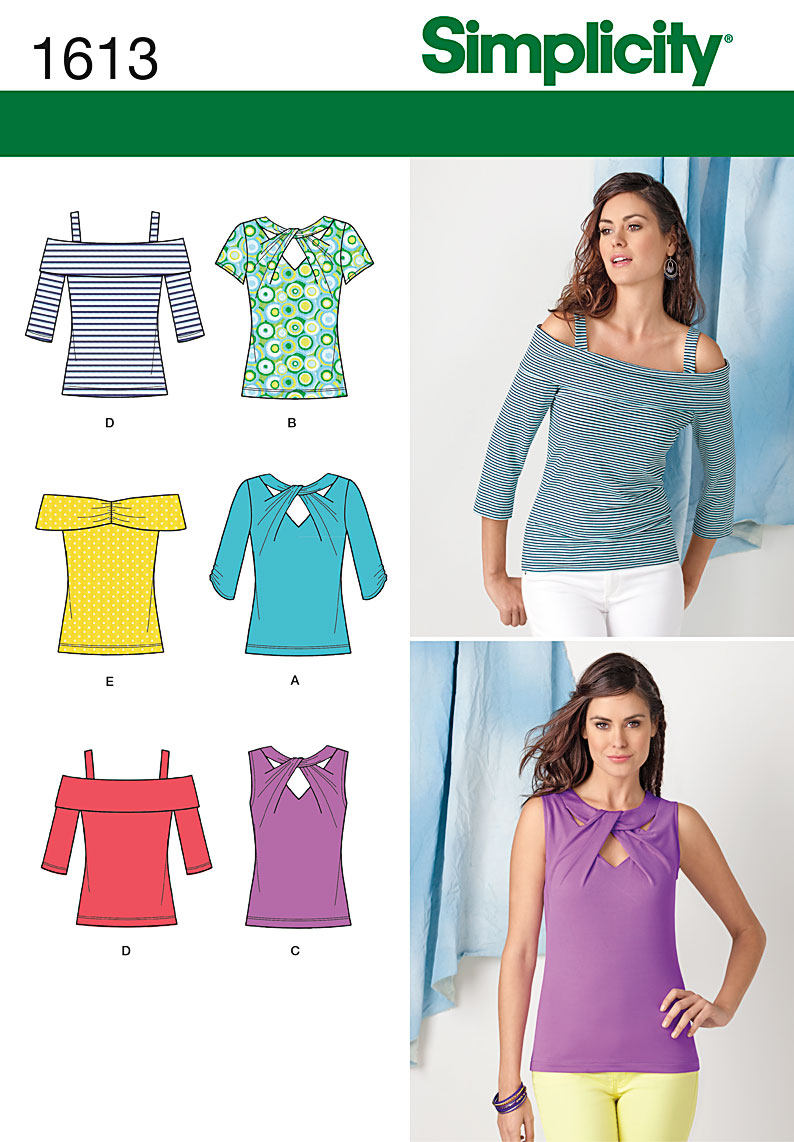 Pattern Sizing
:
I purchased the envelope with sizes 12 to 20 in one package. Since this pattern is pretty close fitting and the tops have a lot of shaping on the pattern pieces, I started with a size 16 figuring I could take it in much easier than letting it out. Although I messed with the side seams to give it a little bit of a closer fit, I like it: not too loose, nor too tight. To give you a comparison, with Vogue I typically sew a size 14 as there is a lot of ease. I not quite a familiar with Simplicity but after seeing this adorable pattern, I will be checking this pattern company out more!
Did it look like the photo/drawing on the pattern envelope once you were done sewing with it?

Yes, I believe it looks a lot like view A, which is the one I made. I am so glad there is an actual photo on this pattern envelope! As the photos are so much easier to gauge the actual final fit.

Were the instructions easy to follow?

Instructions are decent. With the neckline on this top you really need to disengage your right brain, throwing all logic out the window and just follow the freakin' directions. It will all make sense once the front of the top is constructed.

What did you particularly like or dislike about the pattern?
Likes:

Love, love, love the shaping of the top. There aren't too many t-shirts with waist definition, this one is awesome. I love the engineering of the front neckline. I had a few head scratching moments, but once I just followed the visuals I go it. You just don't expect a knit top to be able to do things like cross over the top band and such. Pretty cool detail.

The length of the top is great, not too short, not annoyingly long.

Did I mention the details?

Sleeve length is really great as well. Not too long or short.

Dislikes

:

I really can't think of anything I didn't like.

Fabric

Used:

I used this fun floral from Marcy Tilton. It sewed beautifully!
Pattern alterations or any design changes you made:
I made my usual 1/2" swayback adjustment.
I also extended the front facing to full length in the front and back. With my light colored fabric, the white facing I used showed through. Be aware, if you use a light colored fabric, you will most likely need to line the entire front and back.
I eliminated the ruching on the sleeves. I didn't feel like the top needed it.
Would you sew it again? Would you recommend it to others?
This is a fairly easy pattern. If you have sewn with knits, you'll do fine with this pattern. Just disengaged your brain and follow the illustrations and you will end up with a great top.
Conclusion
:
I love this top but found it to be too low cut for work low. While the photo shows it being drastically low, I choose to ignore this and carried on. I am wearing a simple black cami underneath and if I plan on wearing this to work, will have to remember to do a mirror check.
Thanks for reading!
Sue