This is such a cute Marcy Tilton jacket. The picture below is one I swiped from Marcy's blog. I think her fabric is just gorgeous! See for yourself: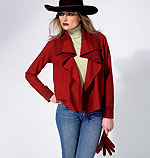 Here are the line drawings so you can see some of the details more clearly.

On the pattern envelope, the jacket is described like this:
Misses' jacket: Loose-fitting jacket has contrast reverse side, front extending into collar, front, sleeve, and lower bands, side front seams, welt pockets, darted sleeve cap, no shoulder seams and topstitching. Bands are cut on crosswise grain of fabric.
What isn't mentioned is that the edges are left naked--my new term for unfinished edges. Also there is a double collar.
This pattern comes in two different size combinations: Y or XS to M or ZZ L to XXL.
I started with a size medium. More on alterations to follow.
I chose this fabric from none other than Marcy Tilton's website. I love the color combination.
This is a wool double knit. Not only do I love the colors, but the drape and quality is wonderful! It sewed like a dream, is not itchy like some wools are and I machine washed and dried it!
I also choose it so that I could use the reverse side for the contrast bands that are pretty darn cool on this jacket. It worked beautifully to just reverse the fabric for the contrast bands.
This jacket is designed for moderate stretch knits: Wool Jersey, sweatshirt fleece and double knit. The only notions needed are some remnants of fusible interfacing for the welt pockets.
I choose this pattern for the front collar, overall shape, and the combination of using the contrasting fabric. I found the pattern easy to put together meaning all the notches and pieces worked as directed! I am not sure I would rate a pattern that has a welt pocket as 'easy'. I wouldn't want a beginner to pick up this pattern and feel like this would be a success. It isn't difficult by any means, it is just that welt pockets can be a little finicky, especially in a knit.
So what did I like, dislike?
I love the styling. I choose to make view B, which is longer than view A. I wanted to wear this with leggings and boots. It just covers my hind-end so the boots and leggings work.
I really love the styling and the way this is put together. There are just enough designer finishes and creativity that you feel like this is more than just your ordinary garment. The sleeves are also really long. I don't mind that at all, I like them rolled as you can see in the picture.
Dislikes:
Raw edges in a sweater knit. Since I couldn't bring myself to leave the edges raw, I used my rolled hem on my serger with black thread and liked it a lot. It gave me just the little bit of assurance I needed.
This jacket was much boxier than I had hoped for. Although it should have been expected, I mean look at the model. What was I thinking?
Changes I made:
I took this is a lot through the side seams--almost four inches. I also took it in two inches at the front side seam. I could have alleviated this problem by cutting a smaller size. I made a medium. I should have started with a small.
I opted to not use the welt pockets. I just don't like pockets in a sweater knit. I never use them, so I left them off.
I also made my usual 1/2 " sway-back adjustment.
Conclusion:
I think this jacket has some fun possibilities. Fabric choices are pretty much unlimited--I think this would work well in a stretch woven, provided it has some drape.
I will most likely tackle this again in the future but will start with a size small.
Thanks for reading!
Sue