Here is my latest creation--well, almost a creation. Read on, if you are intrigued!
Here is the photo, cute, right?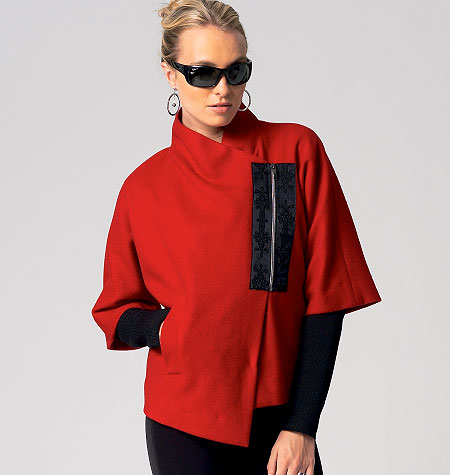 Here is the description from the back of the envelope: Loose-fitting, lined jacket has front extending into standing back collar, underarm gusset, right side welt/pocket, lower sleeve attached to lining, exposed zipper, uneven front hemline, and purchased applied trim.
What isn't included is that the upper sleeve is unhemed. Katherine, on her blog, encourages you to upcycle a sweater to use for the lower sleeves. Which I did do and you can see those below.
Did it look like the photo? Yes, I think it does. But guess what, I just don't like it. I don't think that it is me. So, since I invested a fair amount of time on it. I decided to see if I can revise it to make it more my style. See more info below on that.
How about the directions?
There are a few typos/mistakes when you reach step 33. The directions tell you to pin the front edge of the right front lining to the facing. What they don't tell you to do is go ahead and stitch, which is what the illustration shows. Also, in step 34, you are instructed to sew, but the illustration shows that you sew from the top to the small circle and then it looks like you leave an opening and sew from the bottom to another mystery dot. I didn't sew from the bottom up. It didn't make sense to me.
What did I change?
First things first....for round 1, there was no way I was going to hem a fleece jacket by hand, so I ended up bagging the lining by wrapping the front and back of the jacket up burrito style and sewing the lower edge. Thank goodness I didn't sew one of the sides up to a small inch or so opening. If I had done that, I don't think I could have gotten the entire thing flipped right side out!
You can see how that looks here:
In step 37 you are supposed to sew the neck seams together loosely by hand....no way. I pinned everything together and stitched in the ditch on the collar seam so that it all stayed together. Maybe if I had used wool or something nicer than fleece, but I am not hand sewing.
Round 2..since I just didn't like this jacket, this are my attempted changes.
Next, before wadding this up and burning it, I decided I'd try and extend the sleeves. Well, as you can see from the photo above, I don't think that it looks right. So for now, the jacket is going to hang out on Gracie until I either need her for something else or until inspiration on how to fix this hits hard. :)
Fabric used: Deep purple fleece I ordered on-line. I think I purchased it from Fabric Mart?
The lining was a failed dyeing project my daughter and I attempted. It is cotton and works great for this.
Alterations: I made my usual 1/2 inch sway-back adjustment.
Would I recommend it to others? Well, yes, if you really like a funky style as this. I thought I did until I put it together. Sorry Katherine Tilton, it didn't work for me. The welt pocket came together well and the pocket is nice and deep, perfect for a jacket.
Conclusion: If I can figure out a way to make the sleeves work, I will try to salvage this. If not, I spent about 6 hours between cutting, stitching and scratching my head. All down the drain. Bummer, I hate it when that happens. I hope you have better results than I!
Thanks for reading!
Sue