Sandra Betzina's Misses' top: is close-fitting, pullover top has neck binding and optional stitched hem on lower edge. A: ruched front and elastic forms ruched effect on sleeves. B: self-lined sleeves with ruffles.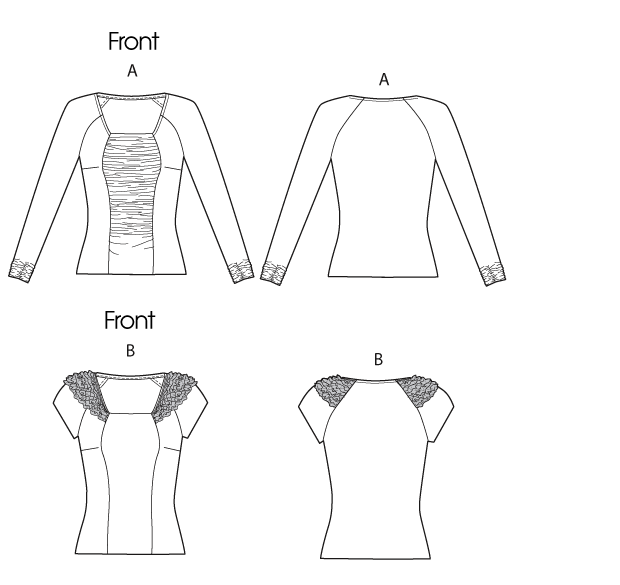 Sandra's sizing is different with A-J all included in one envelope.
The top has a princess seam with dart, shirring and trim details and the instructions are written by Sandra.
Notions needed are Steam-a-seam lite and optional double needle and wooly nylon. For view A, you need 3/4 yard of 1/4" clear elastic.
This doesn't take that much fabric: 1 5/8 yard for size E (long sleeves) . You must use a knit for this top.
I purchased this knit from Marcy Tilton. I love the colors. Purple is one of my favorites and this has a wonderful plumy-purple in it. It is super soft, drapey, and the cut edge only slightly rolls.
It really feels great on your skin!
With Sandra's sizing, I find it if I use my bust measurement for the top (duh, right?) and grade down a size through the waist and hips, I get a good fit.
What did I like/dislike?
I love the styling of the top. It has the ruching but not too much. I love the elastic treatment on the sleeves.
Some reviewers mentioned the craziness of the neckline and how it was attached. I tried it as the pattern was written and didn't like how wide the band was. I removed the band, cut an inch off and reapplied. I like it much better now.
What changes did I make:
I added some top stitching around the neckline and down the front band. The seam would stand up, if that makes sense, and found that if I stitched it down it stayed put.
I also stitched along the seam on the sleeve for about an inch so that the hem wouldn't pop out to the right side when I was wearing it.
I made my usual 1/2" swayback adjustment. Other than that, this is a great basic t-shirt pattern.
Conclusion:
I will most likely put this together again. I am really intrigued by B, but not sure if I will use the shoulder ruffles. You can make this long sleeved version with or without the ruching, so it is a pretty versatile pattern.
Thanks for reading!
Sue