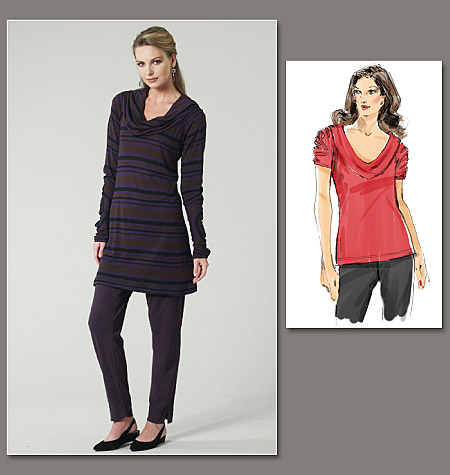 This is Vogue 1197, a top from Sandra Betzina. This top and pants is described as such: Semi-fitted, pullover tops A, B in two lengths have raglan sleeves, shirred with elastic and two cowl variations, optional contrast cordless piping. Close fitting, 1" seam pull-on pants C with side slits and elastic waist. All have stitched hems.
The only notions you need for this top is stay tape, steam-a-seam, and elastic for the shirring.
This pattern is designed for moderate stretch knits only and honestly, you couldn't make it in a woven if you wanted to. Yep, it would fit over your head, but the body is more fitted than the envelope shows.
This top is somewhat of a fabric hog. Typcially a tunic wouldn't take that much fabric, but this one (View B) takes about 2.5 yards. The hoggish part is the sleeves and the cowl. Is hoggish a word?
I used this beautiful mohair/cashmere sweater knit I purchased from Fabric Mart about a year ago. I love it! I purchased three yards at Four bucks a yard! Can you believe it? This beautiful top for less than $12! I love how soft and warm it is.
What can I say about this pattern? It is fast, easy and just fits well! Since I am rather full-chested, I cut a larger size in the bust area and the next size smaller through the waist and hips. I also made my usual 1/2 inch sway back adjustment by taking a wedge out from the waist line area and tapering out to nothing at the side seam.
There are many fitting tips from Sandra, and since I have used her patterns before, I really didn't read them.
I made a few minor adjustments to the pattern as I sewed simply because it made it easier for me. Here they are:
1. After sewing the front sleeve to the back, I fused 1" wide strips of interfacing to the hemline to stabilize it so it didn't stretch when I hemmed it. Since the wrist seems a little narrow, I completed that step prior to sewing anything else so it would lay flat.
2. I attached the stay-tape to the neckline prior to attaching the cowl. After stitching on the cowl, I turned the seam so it faced the top and on the outside top stitched two rows of a stretch stitch to keep the seam from rolling and also to cover the stay-tape. Sometimes stay tape is a little itchy. This covered the tape beautifully and is in no way itchy.
3. Instead of using the steam-a-seam, I used 1" strip of interfacing on the hemline. It stabilized it beautifully and kept it nice as I hemmed it.
All in all, this is a great pattern. If you have passed it over because of the pattern envelope, give it a go. It fits well, lends itself to some fun variations based on fabric choice and is comfortable! What more could you want?
Thanks for reading!
Sue