Starting late-ish summer, I like to start making some garments that will transition into fall. When I found this boucle from Fabric Mart, I knew exactly what I was going to make--a sort of 'modern suit' for work.
First of all, thanks to DD1 for taking the photos. We took these in Louisiana, where it was super hot and humid that day.
Pattern wise, I used the Style Arc Lorie jacket, one I've made before.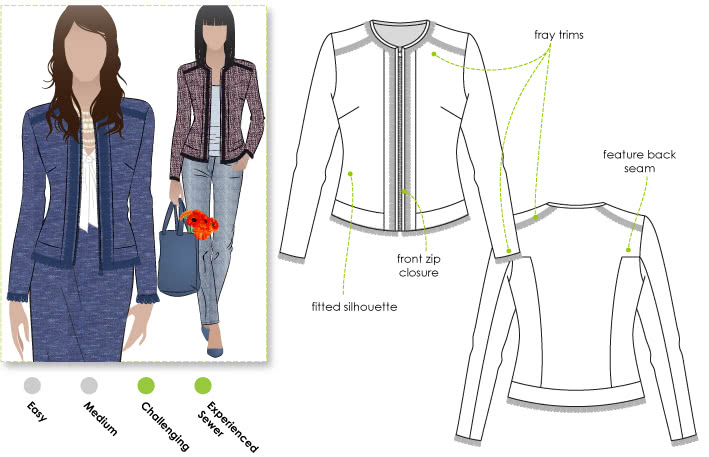 The first one I made I used the self fringe trims at the yokes and center front. This time, I knew I wanted to highlight the fringe on the skirt, plus fringe on both would have been too much.
This is a cute little skirt pattern. It is fully lined and you use self-fabric for the fringe. Using a boucle works just great!
I really love the lining fabric. It is a Maggy London print, also from Fabric Mart. I wish I would have bought an entire bolt of it as it is so fun and cheerful.
Here you can see me in process of the binding. I used a lightweight denim I cut on the bias. This fabric was in my stash. I also decided to cut the front band the bias, just to add another bit of interest to the jacket.
I really love how well the skirt fits. I feel like this pattern runs large. I started with a 14, per my measurements, took this in more than two inches. Be aware of the sizing! Before I sew in the darts on a skirt, I try it on and then pin where they should lie. This works well for me.
I did quite a few things to keep my sleeves hanging properly. First, let me back up. I interlined the front and back garment using fusible interfacing from Joanns. For the sleeves, I did try interlining but it didn't look right as the sleeves looked stiff. However, the sleeves were collapsing at the head so I took two layers of medium weight sew-in interfacing that was cut on the bias and attached those to the sleeve head. This also didn't prove enough so I added another layer of hair canvas, also cut on the bias. This was exactly what I needed.
This skirt calls for an invisible zipper. Don't be afraid of putting one in on a textured fabric. Take your time, practice if necessary and then do it!
I think this fringe is super cute! I want you to keep in mind that I am 5'7" and this length is unaltered.
The skirt is also lined with the fun print I used on the jacket lining.
I am very happy with my new outfit!
What's on your sewing table this time of year?
Sue :)