I scored some lovely Stof knits the last time I was in Baton Rouge, visiting DD1, SIL1, and granddaughter 1. I so love this stuff! It is 95% cotton and 5% Lycra. It sews like a dream!
I knew I wanted a simple dress for fall that I could highlight with shoes, jewelry, or style. I used McCall's 7561 as my base and added a super simple design with adding little bias strips across the chest...just for something different. I see styles like this all over the place.
Here is my base pattern: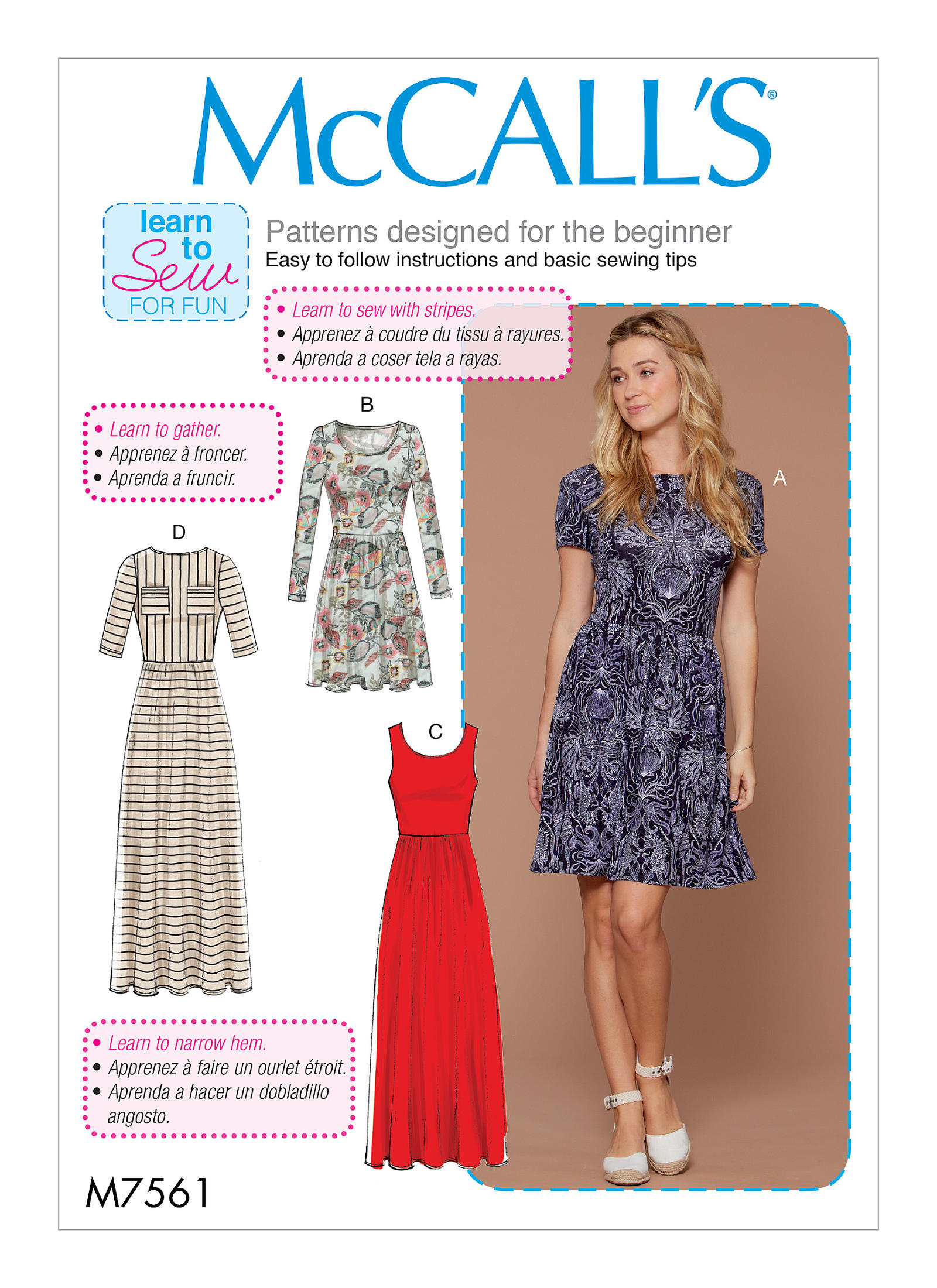 '
I used the neckline of C, the sleeves of D, and the length of A & B.
See what I mean about the shoes and jewelry? I love these shoes! Super simple and minimal jewelry.
So lets talk a minute about the neckline. All I did was turn the neckline under 1/4" and secured it with fusible knit stay tape by Emma Seabrook. Her company is called Seweyekeys. Truly this is the best stuff in the world. For the neckline, as I said I used 1/4" and for the sleeves and lower hem I used 1/2" tape from her as well.
So, back to the self-fabric tubes I made. I just cut two strips about 1 1/4" wide with my rotary cutter and a straight ruler. After cutting, I sewed these on my serger, turned them, and pressed lightly. Next I just played with the position and length until there was no pulling on the neckline. It really didn't take very long to get this right. Before stitching down, I measured both to make sure everything was symmetrical and after a very minor adjustment, I sewed these down.
Here is the stitch I like to use on my regular sewing machine. It is for stretch fabrics and works so much better than my coverstitch. I really should just sell that thing.
And here is an obligatory photo of the back. I like how it fits.
So, as you can see above, I still need a tweak or two to fix the front. I made my usual FBA, sloping shoulder adjustment, and swayback adjustment. Those little folds at the armpit area are either due to my needing to create a dart with this very stretchy fabric or the tubes I added. Honestly, they were not there prior to sewing those on. Any advice would be appreciated!
Thanks for reading and I hope you are enjoying the remaining days of summer!
Sue