I really wanted to be a quality participant in the Burda challenge. I mean, I put a badge on my site and everything. I But to date, I haven't made very many. I think I've come to the conclusion that Burda doesn't fit my lifestyle as much as I'd like it to.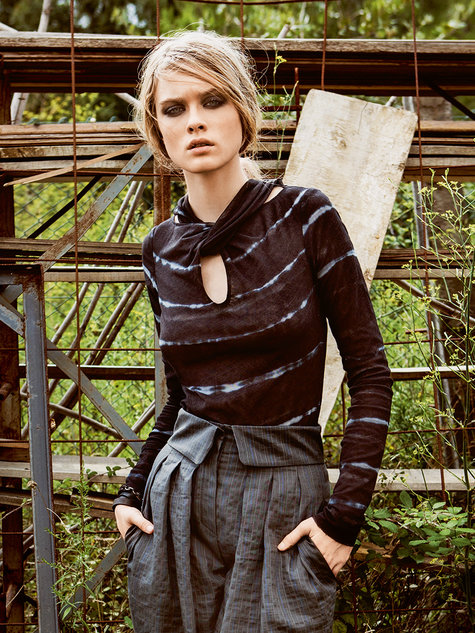 Here is my review for the top from the Winter 2015 issue.
This top is from the Dark Nights collection and the unusual neckline really drew me to this pattern. From the magazine, it is described as: This stylish twist-neck top looks even more intriguing sewn in eye-catching tie-dye fabric. I didn't have tie-dye fabric, but I did have a very lightweight poly blend knit in my stash that worked pretty well.
This top takes quite a bit of yardage as it is a double layer of fabric, front and back which is nice as the mesh-weight the top calls for isn't exactly opaque. I didn't have enough fabric to make it a double layer. In fact, you really need a double layer to make the scandalously low cut out piece. I didn't but I had enough to make a partial facing which works.
I pretty much followed this pattern verbatim--however I could tell this top was ridiculously low and I raised it 2 inches. It's still
silly
low cut. Please pattern designers, we don't all want to flash our navels when we bend over to the world! We also don't want to always wear a cami underneath. Am I right?
One thing I found a little head-scratching was the dimensions of the scarf-type piece that runs from the back shoulders around to the front and to the other shoulder. I winged it and feels like it works. I ended up edgestitching the keyhole opening to keep the facing from rolling out of place.
I sort of like this is a fitted top but the length is really long and so are the sleeves. Both of which are easily remedied. In fact, before I wear this, I must chop off at least six inches from the bottom as I don't like how it hugs every lump and bump on my over 50 body!
If you decide to create this, use a very light weight fabric so it all lays nicely. I tried to make another with a more substantial knit and it just doesn't work. The scarf portion won't lay right and it is just a mess! I won't even show it to you is't so bad!
All in all, this is okay for me. I really am trying to get on the Burda bandwagon but I'm just not sold yet. I'll try several more just to give them a fair shot.
Thanks for reading!
Sue