How many times have I felt like I am horribly late for the party? Sewing party that is! How long as the Renfrew by Sewaholic been uber popular? Well, I finally broke down and purchased it and I can see what all the hype is about!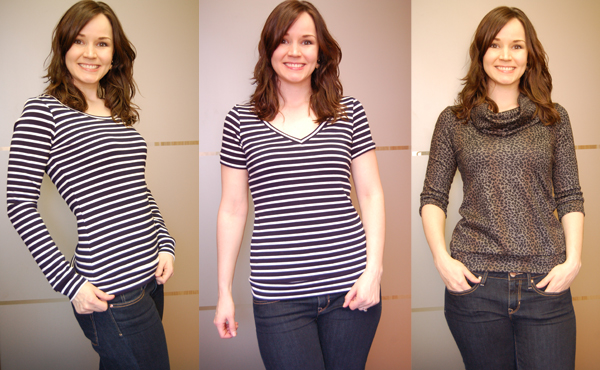 It is a very versatile pattern with the sleeve and neckline variations. Right? I can see this as a TNT or tried and true pattern that you go for again and again.
So what made me break down and purchase the pattern was a craftsy special. Have you ever seen these where they offer kits of a pattern and fabric? It was a bargain in my book and the f-a-b-r-i-c! It was super lovely and sewed like a dream! I searched and searched their site and just can't find a link to purchase any additional fabric. It really is exceptional!
So, I only received enough to make view A, which is just fine! In order to determine my sizing, I made a muslin using the collar from C and the long sleeves of A. I seriously needed an FBA which you can see below.
Luckly for DD2, it fit perfect! Yay! I may have to get more fabric to make another in this same version with the yellow and that adorable cowl!
So back to my final version. I made a FBA using this method: http://www.sewalongs.com/myrtle/myrtle-full-bust-adjustment
It worked well, at least I thought it did! Maybe I need a slightly larger adjustment? What do you think?
I'm not sure what else I can add to this awesome pattern that hasn't been said by other but to purchase it! It is versatile, well thought out and is darn cute!
Thanks for reading!
Sue