Oh the holidays--they sneak up, you have some events to attend, you need some sparkle, what's a girl to do?
Well...you find a pattern and fabric, that's what you do!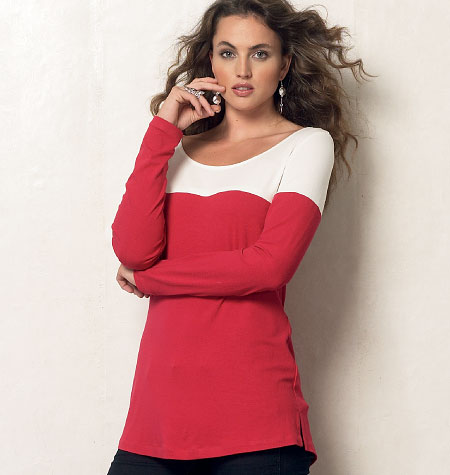 So, along comes Vogue 8950 a simple tunic with tons of style and color blocking options! How adorable is the version above? I thought about color blocking but the word sparkle kept popping into my head so...
I found a lovely fabric at-hold onto your shorts here-Joann. I know, I know, Joann and I don't speak much these days and Hancock didn't have what I was hoping for so along came this lovely sparkly fabric that was so soft and had just enough heft to it that I decided to go for it. And, you know what? I wasn't disappointed! That doesn't mean I am going to be a regular-except for patterns, thread, zippers, etc. It just means that if I do find a fabric that looks and feels awesome, I will at least consider using it. :)
It's pretty, right? I think so!
Ok, so where was I? Back to the tunic....
I chose the Very Easy Vogue pattern which is described as semi-fitted. I think it is a little roomier than that, but that's okay. I made view C which is longer and a solid or no color blocking. This pattern does call for a fabric with quite a bit of stretch, no?
I made only a few tweaks to this pattern. I made a straight 14 based on my high bust measurements. Even though it is semi-fitted, I still feel like it is roomy and for next time, I'll make at least one size smaller. I took in the shoulder seam at the neckline a good inch as it seemed to hang on me and I make my usual 1/2" swayback adjustment. Since I don't like folding over the neckline and stitching in place, I added a narrow band and topstitched it on the right side. In fact, I topstitched all the seams on the right side just to keep the seam in place. Sorry about this picture being upside down!
I did sew the sleeves into the armhole instead of flat which was incredibly easy and no, I didn't need to ease stitch. I just pinned the crap out of the sleeve cap and it worked beautifully.
Alright, enough! Here it is on me and I am ready for the party with some dear friends!
I wore this with some striped leggings which are tone on tone and I love my black boots. I have worn the crap out of them but they still have quite a bit of life in them.
See, no FBA needed with this top!
I do however recommend a muslin which I did make. That is where I discovered the need to take in the shoulders at the neckline.
The sleeves were a little long and I just took them up a bit at the hemline. Length is great for a tunic as I don't want any wardrobe mishaps!
Other reviewers have mentioned there are not finished measurements on the pattern tissue or envelope but that isn't such a big deal to me, especially since I am a recent convert to making a muslin.
I do like to stabilize the shoulders with clear elastic and did so.
I think I am ready for the holidays, how about you? I think I have a new TNT...more versions to come before I decide for sure!
Thanks for reading!
Sue