Pattern Description:
This is the description from the back of the envelope:
Pullover dresses, A, B, C, D, E, F in two lengths have partial self-faced, gathered bodice, lapped bodice front, princess seams, front self-band, tie ends, side bodice variations, and gathered skirt. A, C: elbow length, kimono sleeves. B: long kimono sleeves, D: long sleeves. E, F: sleeveless. A, B, D, E: mid-knee length. C, F: below mid-calf length.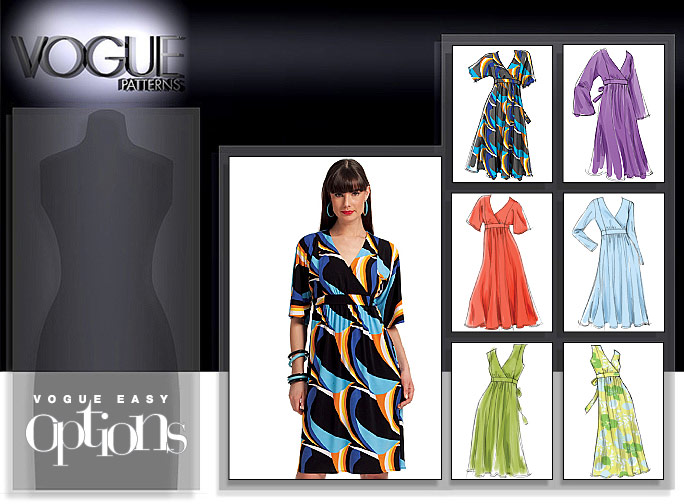 This pattern is sized for two-way stretch knits only such as cotton Lycra, rayon Lycra and nylon Lycra.
Pattern Sizing:
This is a multi-sized pattern with choices 8 to 14 or 16 to 22. I started with a 14 and ended up with a size between a 14 and a 12.
Did it look like the photo/drawing on the pattern envelope once you were done sewing with it?
Sort of, the model must be wearing a size two or three smaller than her measurements. I think this pattern runs big, especially through the bodice.
Were the instructions easy to follow?
Yes, very. No issues whatsoever.
What did you particularly like or dislike about the pattern?
Likes:
I really like how the bodice is partially lined. It gives a very nice finish to the bodice.
I love the variations the pattern has, it really gives you many options.
Dislikes:
This pattern is very mu-mu like (according to DH).
Bodice is pretty low cut. If you are larger busted you'll need a cami or you'll get lots of stares :)
The skirt is really full. If you desire a less full skirt, use a smaller size for the lower half
Narrow hems on the sleeves. Ugh.
Fabric Used:
I used a stretch slub rayon from my stash. I had 2.5 yards that wasn't quite enough so I had to line the bodice with a cotton knit, also from my stash. The dress cost less than $10.
Pattern alterations or any design changes you made:
1. I didn't take in my usual 1/2" swayback adjustment simply because there is a seam at the lower back. It worked out fine that I didn't.
2. As I said earlier, I used a t-knit to line the bodice as I ran out of the rayon. It worked just fine.
3. Instead of using a narrow hem at the shoulder seam, I cut 1.5" bias strips, serged them to the shoulders, turned and stitched about 1/16" from the seam. I have a narrow bias strip showing. It really drew the shoulder closer to the armhole and helped avoid gaping.
4. I took a 1/2" dart at the bust line to help with armhole gaping. With my busy print, you really can't tell.
5. I shortened the ties by about 8". I didn't have enough fabric to make them any longer and really, why would they need to be?
6. I attached the side ties to the side seam by stitching along the seam line, just to avoid as much drooping of the ties as I could.
7. I also took the top in quite a bit at the side seams, probably about an inch. This bodice is fairly large, I would recommend going down at least one size before cutting out.
Would you sew it again? Would you recommend it to others?
For myself, no, I won't sew it again. Would I recommend it to others, yes, especially if you want a breezy summer dress that you don't have to stand up ultra straight or hold in your abdomen. It's awesome for that! This dress would most like work if you are expecting.
Conclusion:
I
am glad I tried this dress. It certainly has been under-reviewed and also not many positive comments have been given. While I like my finished product, it certainly has its place. It will be great for running errands, or wearing to work. I don't think this is an important meeting dress by any
means!
Thanks for reading!
Sue