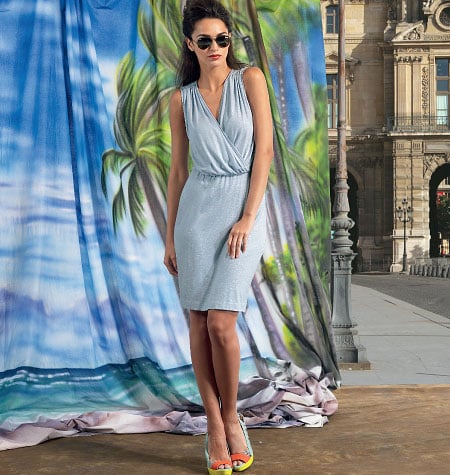 This is a review for a super cute and summery dress and top pattern in two different styles.
Here is the description from the back of the envelope:
Misses' tops and dresses: Pullover tops and dresses have neckline variations and elasticized (seamed) waist. A: Lower left side gathers and exposed zipper. A, B: Loose-fitting. C: Elasticized side seams on lower section. C, D, Very loose-fitting, gathered (bias front) bodice. B, D, Semi-fitted skirt. Stitched hem. A, C and sleeves. B, narrow hem back neckline. A, B, and neckline/armholes C, D.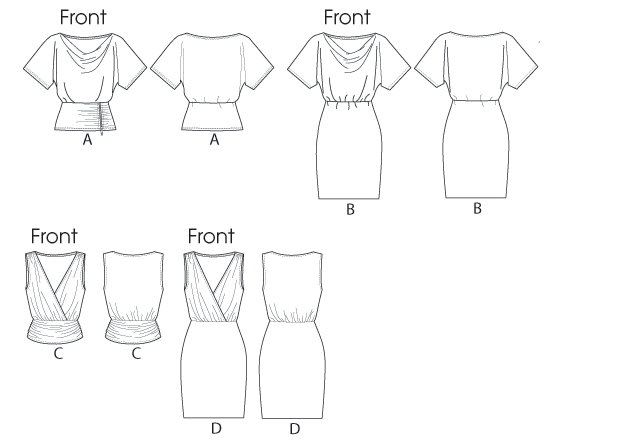 Here you can see the line drawings of how different the necklines really are.
I made view D, with some modifications. :)
Notions Needed
: Just elastic for view D. For view A, there is a 7" exposed zipper along the waistline. View C needs some elastic as well.
Suggested fabrics
are medium weight knits such as jersey, cotton knit and novelty knits. I used a medium weight knit from my stash that I've had for about 2 years. It has a wonderful soft hand. I believe it is a poly/Lycra knit that I purchased from Fabric Mart.
Sizing
: A5 includes sizes 6 to 14 and E5 includes 14 to 22. I made a size 14 and I like the fit.
Does the finished garment look like the envelope?
Yep, sure does, even given my minor modifications.
How were the directions?
Directions are fine if you want a so-so garment. I am just getting a little tired of the big four pattern companies taking so many short cuts on getting a really nice finished garment that you are proud to wear. I added a few steps that I'll mention below.
The notches all match up and the drafting seems just fine. For this view, there are just four pattern pieces and I quickly discovered that the skirt front and back are exactly the same size. So in all honesty, there could have been just three pieces to deal with.
Likes/Dislikes?
I love the style of the dress. It is classic and the length is great. Not too long nor too short. I am 5'7" and it is maybe an inch or two shorter than the model.
Coverage at the crossover neckline is good meaning that I didn't have to make any alterations to keep the girls covered. Normally I have to wear a cami underneath but with this top I don't have to and I feel like it is appropriate for work.
It is comfortable to wear. Gotta love knit dresses for summer.
"Straps" are nice and wide giving good bra coverage.
Dislikes:
The directions don't mention reinforcing the shoulder seams at all.
The casing for the waistline isn't stitched to the top when it is completed, it just dangles there.
Narrow hems at the neckline and armholes.
Armholes are a little lower than I 'd like.
What modifications/alterations did you make?
1. Added 1/4" clear elastic to the shoulder seams to reinforce and keep from stretching out of shape.
2. Stitched the top of the waistline casing to the top by stitching 1/2" from the waistline seam preventing the dreaded dangling of the seam
3. Cut 2" wide bias strips to enclose the neckline seams as well as the armhole seams. I measured how long the seam was and subtracted 4 inches from the right front edge to the left front edge and eased it into place. For the armhole seams, I subtracted 2 inches from each opening and stretched the bias to fit at the underarm portion of the seam so it hugged more there. It seemed to work. I just wish I'd take before pics as well!
4. Typical 1/2" swayback adjustment which I don't think I really needed but too late now!
5. Just to be safe, I stitched about 1/2" in the ditch of where the bodice crosses over just to avoid any possible wardrobe malfunctions.
Will you sew it again? Recommendations?
Yes, I will sew this again in the other view. Not sure if I will make the top or dress as you can never have too many of either one!
I do recommend this dress to others. It is fun to stitch together and fits well. I highly recommend the modifications I made in order to create a dress that will last and that looks more like RTW. If I were to make either C or D, I will raise the armholes at the bottom about1 inch. I do think my bias edging helped keep that area from possibly gaping.
Conclusion:
This is a fun dress. I can't wait to make view A or B sometime soon!
Thanks for reading!
Sue