Oh, this is so much fun, sewing for my soon to be born grandson, and first grandchild! Here is my review for McCall's 6683. I am only showing you a photo of one of the views that is available for a boy on this pattern . Is anyone else that wants to sew for boys a little put out by the lack of patterns? The ratio has to be about 25 girl patterns to each boy pattern. Disappointing.
Pattern Description:
Infants' tops, romper, dress, panties, shorts, pants and hat: Pullover tops, romper and dress have collar/front bands, and side front, side back seams. B: Lower band, snap crotch. D: narrow hem. Panties have elastic waist and legs. Shorts or pants have elasticized waistband, mock fly, and pockets. A, B, C, F, G: Stitched hems. F: Flaps, lower pockets with tucks. Self-lined hat has seam detail and elastic back.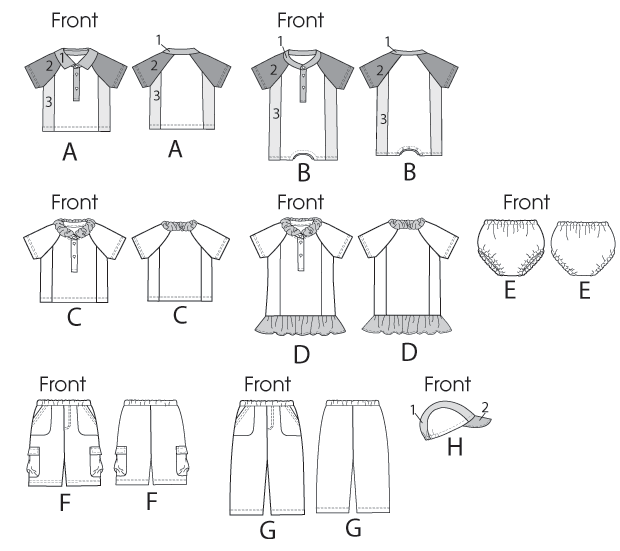 This pattern is designed for moderate stretch knits and lightweight woven fabrics.
Sizing:
This is a pattern that contains sizes Newborn to X-Large or chest sizes 16.5" to 19". I made a large, in view B, which I hope will fit the little guy next summer.
Fabrics:
Suggested fabrics are Interlock, jersey, cotton knit. Contrast C, D, Panties E: broadcloth, madras. I used a medium weight interlock knit from my stash. The embroidery was one that I found on Editor Plus, a software program for my Bernina sewing machine. Honestly, this doesn't take much fabric. For a size large, such as I made, it takes 5/8 yard for the main fabric, 1/4 yard for the first contrast and 1/2 yard for the second contrast. You also need interfacing for the placket and collar band--more on that later.
Did the finished garment look like the pattern envelope?
Yes, my romper resembles the envelope. I just love the style of this little romper. It looks so comfortable for a little person to wear!
How were the instructions?
Instructions were pretty detailed, but I don't necessarily agree with the order of construction. The directions have you stitch the side seams and then attach the collar band. I thought that was silly, so I sewed the front pieces, attached the sleeves and attached the back pieces. This gave me a flat surface to put the collar band on.
Not sure why the collar band needed interfaced. I did it anyway and wondered why! I used a ribbing I purchased a while back and while I understand using interfacing on the placket, I have no clue why it needed to be on the collar band, that is unless you are using a woven fabric, then I completely get it. Also, there wasn't any interfacing in the snap crotch area, which was another huge surprise! The snap crotch doesn't need to stretch, but still for reinforcing the area because of the snaps, interfacing is a good idea.
I haven't made a placket in a very long time and feel pretty inadequate doing so. It isn't as nice as I'd like--so no judgments, okay? It really isn't as wonky as it looks, I didn't smooth everything down very well before I took the photo.
I was able to use my KAM snap pliers, which have to be about the best! The pliers are reasonably priced and it came with a variety of multicolored snaps. I used white in the crotch and red on the placket. If you sew for children and need a reliable pair of pliers, get these! They are far superior to the Dritz brand you can find at JoAnns or Hancocks.
Likes/Dislikes:
Likes: the styling. It's cute, right? It feels comfortable and isn't horribly plain; a problem I find when looking for little boy patterns.
Easy construction.
Takes little fabric
Variety of view for a girl/boy included in this pattern
The placket is nice and long and it appears easy to pull over the head.
Dislikes:
I hope the little guy's tummy fits inside. Does this seem long and narrow to anyone else?
Lack of interfacing in the snap band and interfacing that is unnecessary in the collar band (if using a knit).
Will you sew it again? Recommend to others?
Yes and yes. It is an easy pattern. I love how easy it is to embellish a simple pattern such as this either with embroidery or with fabric choice. If you need to sew something for a young child, this is a great pattern.
Conclusion:
I can't wait for the model to be born! I a very excited to make the pants and hat. So cute!
Thanks for reading!
Sue :)