I have had this pattern and the denim I used for far too long.
Here is what it looks like: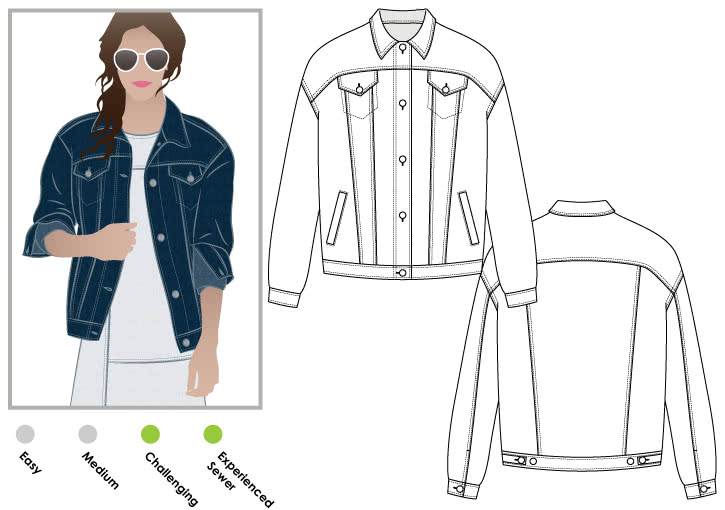 Since I am still on my fabric purchasing (starvation) diet, I used what I had and finally made this up. This is a 'special' denim. It is a high-quality, heavier weight denim--like at least 10oz. It is perfect for this make.
I like the fit of this--it is over-sized so it gives you a 'boyfriend' look. I made one size smaller than I usually do for SA patterns. I don't mind a bit roomy, but over-sized and I feel like I am swallowed up.
Making this isn't complicated. And, if you've made a jean jacket, you can do this without the directions. I actually like trying to follow SA's directions. They are cryptic at best, but I do notice that their newer patterns tend to have helpful diagrams. This pattern was no exception.
The most complicated part of this jacket is the chest pocket. It has a very cleverly constructed facing that the flap covers.
Sorry that photo is a bit blurry. You can see how the facing is squared off allowing entry into the pocket. The pocket bag is top-stitched from the inside so it is perfect on the outside.
While I was wanting to show you the pocket outline, you also can see a close-up of the sleeve vent. That little addition of tacking is mine. The pattern didn't call for it, but I figured that it will be a possible high-stress area. Reinforcing it can't hurt.
Yes, there are welt pockets. These are not my best every welts, so please don't examine them too closely. :)
This gives you a good idea of how roomy this really is.
Aren't those little tabs on the back waistband cute? All the details make these fun.
Here is my only deviation. I added this bias band at the neckline. The pattern tells you to fold the collar edge up into the neckline and collar and then stitch in the ditch. That makes that seam so bulky so I serged the edge and then added this bias binding to cover it all up. It gives that part of the garment a comfortable, and non-bulky edge. Plus, I love that little pop of orange that shows itself occasionally.
Thanks for reading! I hope you are enjoying spring in your corner of the world!
Sue