Here is one of my latest makes...the StyleArc Eden Knit dress. Can I say, it's love?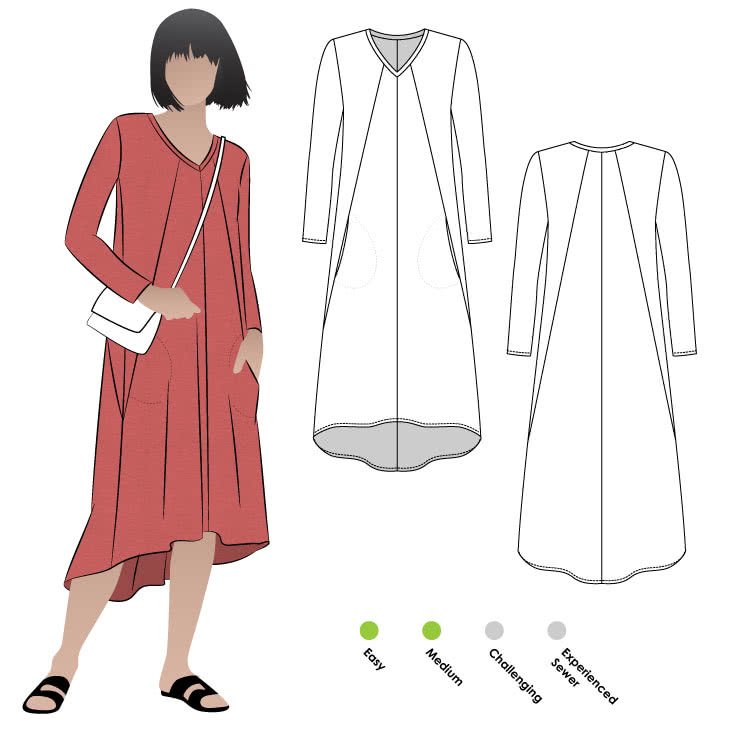 This dress is so freaking comfortable! It has some super fun seaming and pockets. Normally, I hate pockets in knit dresses since they add girth to my already curvy figure, so with these being on the front princess seams, I knew they were worth a try.
Would yo look at those pockets? They are in the perfect position. For reference, I am 5'7". Most of my height is in my legs.
For this dress, I made a FBA, sloping shoulder, and swayback adjustment--these are standard for me.
Normally I don't need a FBA but I knew that with this dress to look right, I would need one.
With the high-low hemline, this dress is super fun. It has a rather casual vibe, which is perfect.
My only deviation from the pattern (sorry, I didn't take a close-up of it) but I made the v-neck a cross-over instead of having a center seam at the v. Hopefully that makes sense. I also used SewkeysE stay tape at the hem edges.
Did I mention this fabric at all? This is a cotton-Lycra mix from Stof. This stuff is so amazing. It is soft, holds its shape, and feels so wonderful on your skin. I so highly recommend this manufacturer!
Thanks for reading!
What say you? Do you have a favorite fabric manufacturer like I do? I have this one and also Telio.
What's yours?
Sue :)