This is my first go at an Itch to Stitch pattern and I must say I am quite smitten! Are you familiar with Itch to Stitch?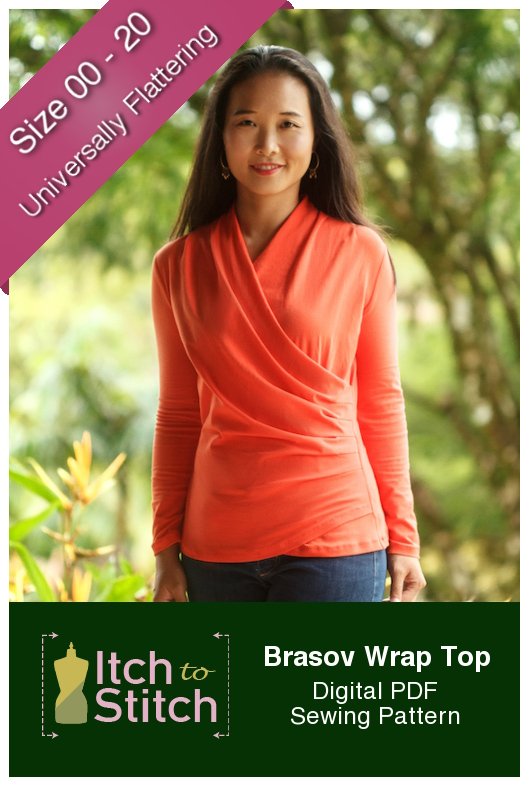 I found this pattern on Pattern Review and had to purchase it. It was easy to tape together and sewing it was a breeze!
Normally I shy away from wrap tops. Being fuller busted, they simply aren't work appropriate and more importantly, I don't feel very comfortable wearing them. Albeit I certainly haven't spent a great deal of time fitting them properly so they would be work appropriate. Anyhoo, I digress. Let's get back to the pattern!
There are 20 steps to this pattern all of which are necessary and well-explained. A beginner with some experience sewing knits should be able to stitch this up with good results. What is essential to this top is to mark all the pleats and markings well so you match everything up precisely.
Simple, right?
My fabric is a knit made by Stof. If you've read my blog lately, you'll know that I drool over this maker. These knits are so soft on your skin, substantial for garments with some shape, and wash/dry superbly!
I so enjoyed putting this together and I see more in my future!
Sorry the above photo is a bit blurry. That is the stitch I use on my Bernina 430 for hemming. My coverstitch has been in time-out so long I should consider selling it, especially with the great result I get with this stitch and a few others on my regular machine.
Thanks for reading!
Sue