Don't you just love it when you purchase a fabric that is even prettier in person than the you thought it would be? For me, that is this summer-screaming four way knit from Fabric Mart. It has so many of my favorite colors in it: purple, various greens, blues, black, and white! It is so soft on your skin too, bonus!
Garment one is Kwik Sew 3703. What took me so long to purchase and make this pattern up? Such a classic style and who doesn't want to look comfortable and chic during the summer?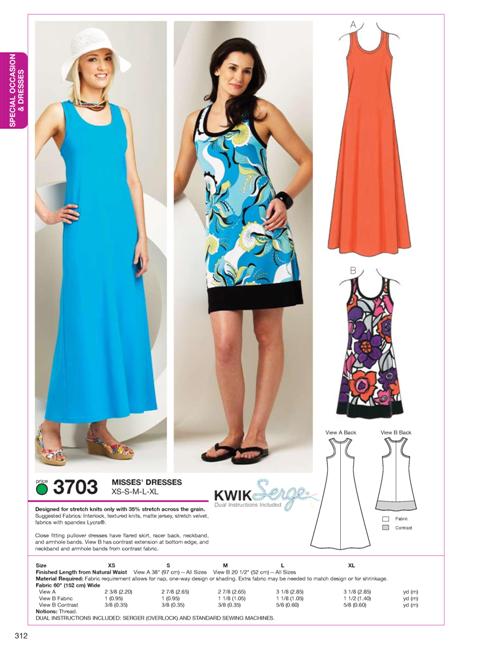 This image from SPR seems to have come straight from Kwik Sew's catalog!
Obviously I made view B although don't be alarmed, the pattern is really that short, this is my wearable muslin and I opted to leave the contrast bottom band off.
I knew I would wear this with leggings and I think it is a great tunic length!
Sewing the neckline and armhole bands was a little futzy. For one thing, I had decided my coverstitch had been in time out for long enough and I broke it out at a semi-private sewing class to finally master the thing or put it up for sale. I knew I would have time to construct this on my serger when I was at the class. I just didn't bring my regular Bernina so I could baste the bands before serging.
The first armhole, I simply pinned it in four places around the opening and stretched until it fit. The second, I pinned so I had more stretch at the depth of the armhole and less at the shoulder seam and this seemed to work better. I did coverstitch the hemline and around the neckline and arms to give it a decorative element. I won't show you a close-up as I still need some practice on getting this as perfect as I'd like but at least the coverstitch and I are speaking now, me much more appropriately to what I hope becomes a workhorse in my sewing room.
My only regret is that I didn't use elastic at the shoulder seams...I had a tiny bit of puckering there...I think the elastic would have helped with that.
This is a great little pattern! I hope you'll try it. I hope to make the maxi next. And, it looks like a need a slight FBA...I heard a very wise seamstress once say...the item you just made prepares you for the next one. Very wise, right?
Next is a little top that I was hoping to make a dress but cut wrong...I hate it when that happens but I do really like this little top and will wear the heck out of it, probably more so than another dress.
McCall's 7064 is such a fun little pattern! I wasn't sure about the ruching at first but now that I've made it, I LOVE the effect!
It is simply close fitting--as if you can't tell by the photos, and has no buttons/zippers. You can vary the sleeves, go without sleeves, or make it into a fun little drop waist, ruffly dress. It really doesn't take much fabric either--less than two yards for the long sleeved dress.
This went together fast and easy and I think it is darn cute! I put a band at the neckline and made an FBA. This pattern has negative ease and since I didn't want it that fitted, I went up a size. Normally a 14 in patterns is just about perfect for me, but this time I made a scant 16 and am very pleased!
I coverstitched the hems on the top bottom and sleeves and I think I am falling in love with that blasted machine!
I hope to made dress D for fall and that it will accommodate tights and a jacket for winter. I just love multi-purpose clothing!
Thanks for reading!!!
Sue