What a great little top, especially for summer!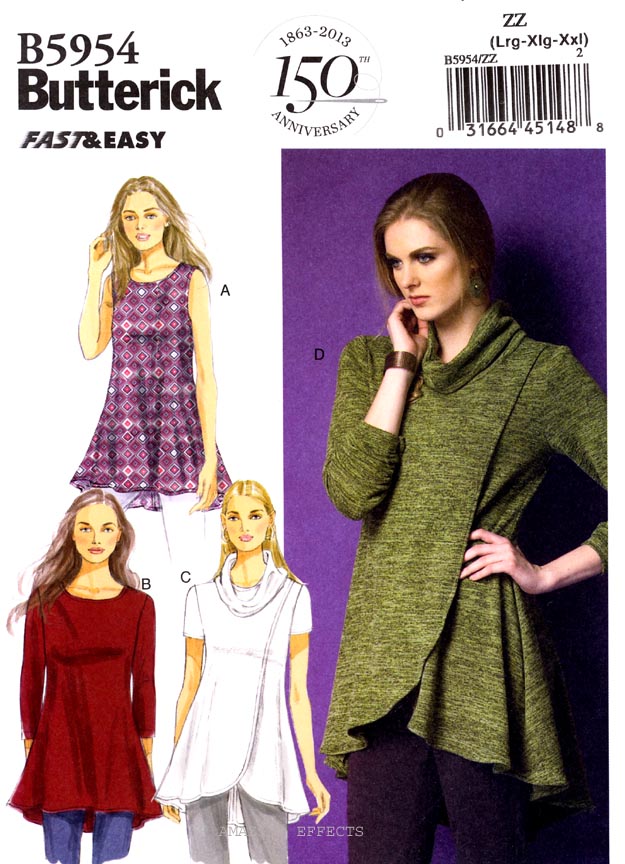 Here is my review of Butterick 5954: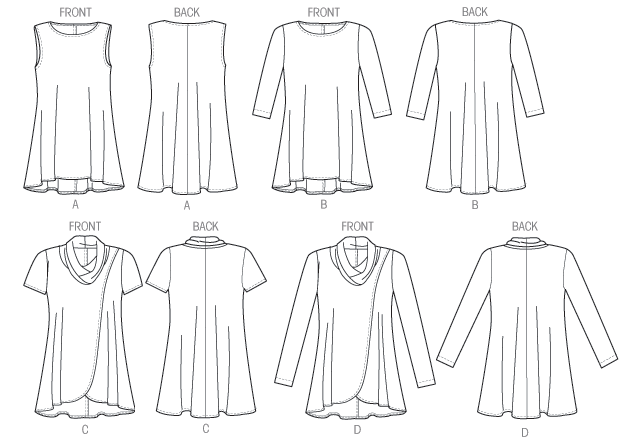 Pattern information:
Misses' tunic: Close-fitting and flared, pullover tunic has front variations, shaped hemline, and narrow hem. Wrong side shows on back hemline. C, D: Collar.
Fabric Used:
This is a tissue weight knit that I think I purchased from Marcy Tilton. It is a border print and I had a lot of fun trying to figure out how to maximize the pretty fabric edge. I ended up cutting the fabric out on the crossgrain which worked just fine. The fabric was a little fussy with the demands of hemming such a long piece (more on that later). Other than wrestling with it a bit, I am very happy with the results.
Does the finished garment look like the pattern envelope? Yes, except for my changes. The overall shape is there. I made a medium based on my measurements.
Oh the wind was blowing today!
How were the directions:
They were super easy to follow. This pattern is labeled as very easy and it is just that! A beginner could tackle this with no issues whatsoever.
Changes/Modifications/Alterations:
I almost always complete a swayback adjustment and I did this time as well.
The neckline is obviously different. I decided on View C
but didn't want the cowl neckline so I cut a piece of 2" wide fabric 20% shorter than the circumference and stitched it onto the neckline just like a band would be. I top-stitched a double row of stitching to keep the neckband seam in place. I like how it turned out. The pattern directions would have you use a hemmed neck and I just don't like how that looks.
I also stitched down the right front over the left to just below the waistline. My fabric is more of a tissue weight and when I tried it on it felt like I would have to constantly adjust it. No one wants to do that!
I folded out 2 inches on the side seams of the center back seam for a total of 4 inches and I am glad I did! I think it is just what I wanted as far as fullness.
Recommendations?
I do recommend this little top. I believe the line drawings are deceiving as far as the back of the top goes. If you believed the drawing the back would be only slightly shorter than the front which simply isn't the case.
This goes together easily and is a fast little project. Next time, I may consider using a rolled hem to finish off the lower portion of the top. It took me longer to press and hem the entire thing that it did to cut out and sew the top.
I like this tunic. I would like a sleeveless version for summer without the overlay. I'd also consider a top more appropriate for fall or winter, provided the right fabric comes along.
One caveat: if you have large shoulder muscles (I don't) you may want to test the fit of the upper sleeve. I found that while I was wearing it and lifting my arms over my head those sleeves were just a tad tight. Maybe tight isn't the right word--but if it isn't, I am not sure what is!
Thanks for reading!
Sue