Here is one of Simplicity's Amazing Fit Patterns. I was recently at JoAnns in need of something small, like a zipper and ended up purchasing five patterns (something I told myself NOT to do) simply because they were at a ridiculously low price--5 for $7. How can you pass that up? Well, you can't. So I grabbed a handful and one was this little skirt. I liked the patch pockets a lot. I love the color of the model's skirt, it is one of my favs, so into the cart it went. With no plan for a fabric. I am sure in my massive stash I had something and I did! I think I purchased this printed denim from Marcy Tilton. It was easy to work with and I like the pattern. It is sort of damask-like. It has a little bit of a stretch which makes it comfortable to wear.
Pattern description: Misses' skirt in three lengths with individual pattern pieces given for slim, average and curvy fit. Includes customized fitting instructions.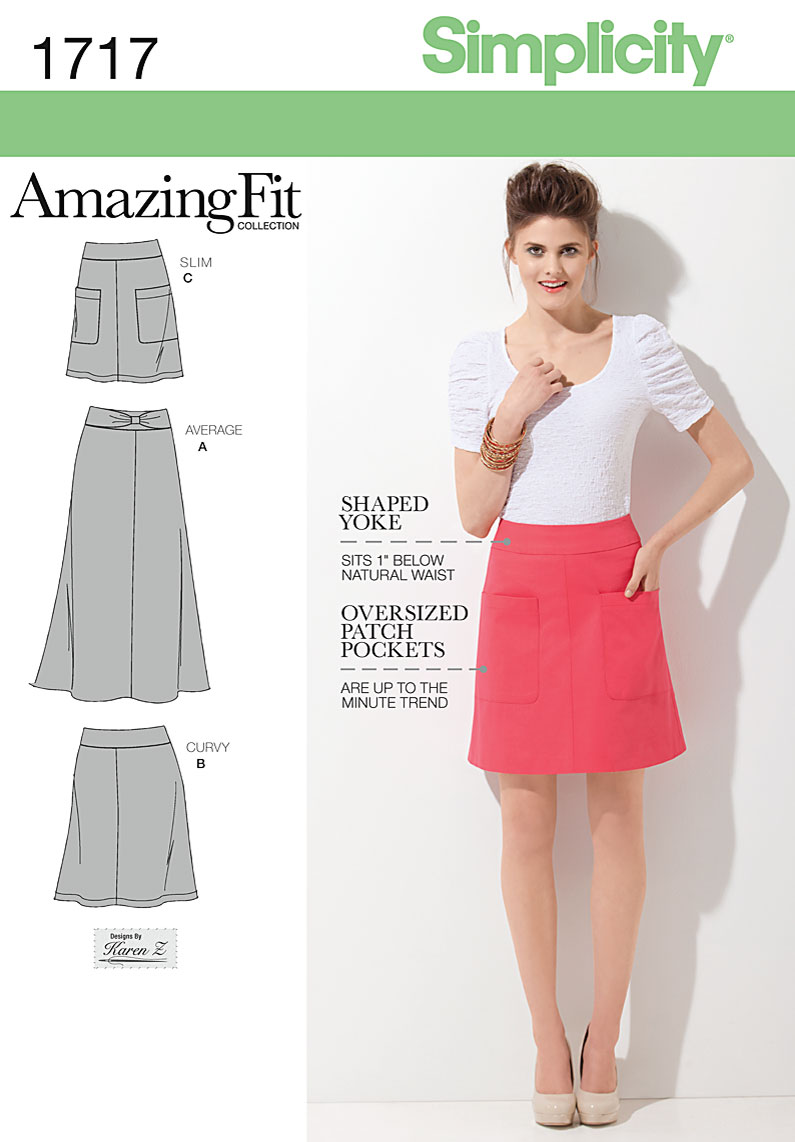 Suggested fabrics are laundered cottons, lightweight denim, pinwale corduroy, pique, ....pretty much anything you can think of!
How were the instruction? Fine...honestly there isn't much to putting together a skirt like this. The instructions as sort of overkill with having you fit as you sew, but I do like those sort of reminders that help me to not have to rip out! There are 1" side seam allowances included so you can fine tune the fit.
One thing I didn't care for was figuring out if I needed slim/average/curvy. I actually read the directions twice trying to find that information and finally realized it was printed on the pattern tissue! Not so helpful in my book.
Sizing--in this envelope, sizes 6 to 14 are included. I made a 14 with an average fit. I started with View B as C looks really short and it is much easier to lengthen a skirt but hard to make it longer and I don't think a 51 year old should wear super short skirts. That's just me.
Likes/Dislikes:
The pockets! Love these! They are roomy and sewn into the side seams.
I like the yoke quite a bit. It hits me just below the natural waist. Not too high, nor too low.
Dislikes--none really other than hunting for whether you should make slim, average or curvy.
Alterations/Modifications: None really since you have the one-inch side seams to mess with. I took out 4 inches of the fullness at the lower part of the skirt. I don't mind the A-line, I just didn't want to feel like a bell. :)
I should have taken my hands out of the pockets for this picture. It doesn't pull, trust me!
My booty is rather flat these days, so I did extend the darts about an inch and a half.
Recommendations: My sewing room is under construction so I used my regular machine and Hong-Kong finishes. I like it!
I ended up interfacing the folded over portion of the pockets. I don't like to iron, especially not denim and it seems the top part of pockets always get wonky in the wash. I am hoping this small step prevents me having to break out the iron.
This is an under-reviewed pattern. It is fast, fun, and economical in that it doesn't take too much fabric. I do recommend it, especially if the pattern is just over a dollar.
Thanks for reading!
Sue