I love my new jacket! Here is my review: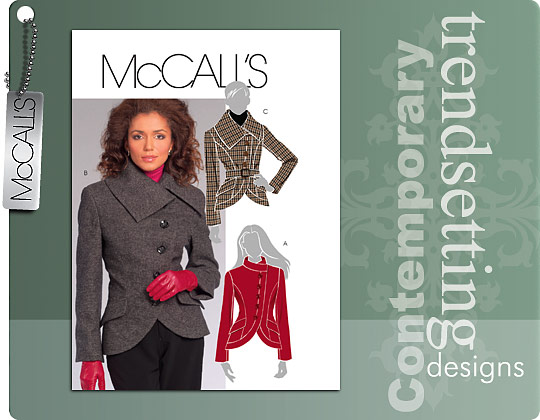 Description:
Misses' lined jackets and belt: Semi-fitted jacket with princess seams, flaps, front band and two-piece sleeves; jacket A has standing collar, jackets B, C have collar with collar band; jacket C has belt with buckle; button closing. I made view B.
Fabric:
Suggested fabrics for the jacket are Gaberdine, Medium weight linen, denim, tweed, wool, wool blends along with lining fabrics. I used 100% wool tweed I've had in my stash forever and chocolate brown lining that was also from my stash.
How did your finished garment turn out?
I love it, I think the fabric I luckily had was perfect for this. It looks just like the pattern envelope sans the pocket flaps which are useless by the way.
Directions:
I had no issues with the directions. The order of construction was very logical, the pictures adequate and all the notches match up perfectly. This is not a pattern for beginners. You will want some sewing experience before you dive into a more tailored-looking jacket such as this.
Likes/Dislikes:
I love the overall shape and the lovely collar.
The front bands add a unique front shape to the jacket and the slot button holes were fun! I've never done those before and I am a huge fan!
There is a lot of ease in the sleeve cap but in the wool went beautifully. My lining fabric doesn't look quite as nice as the wool, but since I am the only one that knows about that, I'll just keep that my secret.
My only dislike is that the jacket doesn't have pockets. Next time, I will add welt pockets to the front with the flap so there are more than decorative.
Modifications/Alterations:
I made my usual 1/2" sway back adjustment on just the back piece by wedging out at the center and tapering to the side back seams. I ended up slightly stretching the back pieces 2 inches above and below the waistline so the hem would lie evenly around the bottom. What I love about wool is that you can coax it into a variety of shapes and it stays put!
The only alteration I made was to make a FBA. I did this by finding another coat/jacket pattern that had cup sizes. I took the C-cup pattern piece, laid it on top of this pattern, and redrew the lines. It worked beautifully and my fits pretty well through the bust.
Since I plan to wear this as a jacket over other clothing, I am okay with the sleeves as long as they are. I am 5'7" so if you are shorter or have shorter arms, you may want to measure prior to cutting this jacket out.
Conclusion/Recommendations:
I have had this pattern forever and when another review on sewing pattern reviews recently posted her version, I gasped and ran for my pattern and fabric stash! I really love this jacket. I've pulled the pattern out many times but just hadn't taken the time to create it. It really didn't take that long to put together and sometimes a project that requries precise sewing, pinning, etc, is worth the effort!
Thanks for reading!
Sue