Pattern Description:
Here's what the back of the envelope says: Misses' knit tops. That's it! Here's my version: Misses' close-fitting tops in two different styles and three sleeve lengths. A, B, C has front cross-over detail and D & E have off-shoulder sleeves (That's how I describe it anyway!)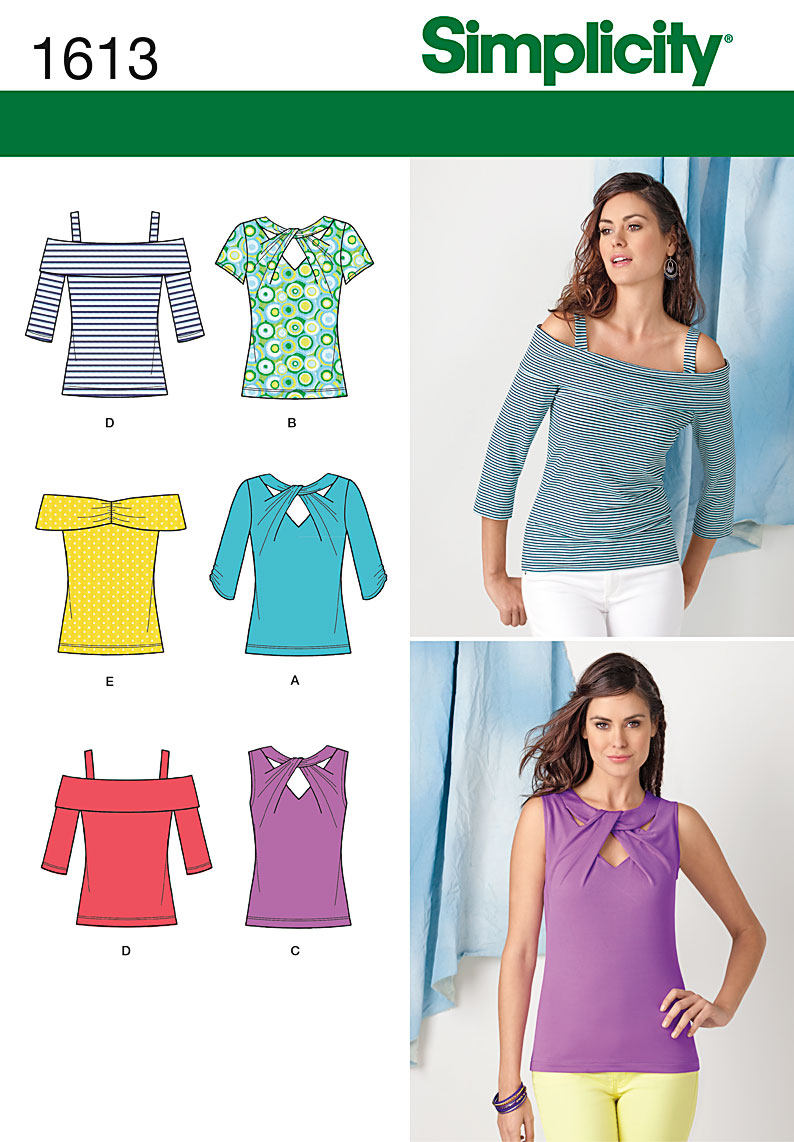 Pattern Sizing
:
I purchased the envelope with sizes 12 to 20 in one package. Since this pattern is pretty close fitting and the tops have a lot of shaping on the pattern pieces, I made a size 16 figuring I could take it in much easier than letting it out. I think it fits just how I would want: not too loose nor too tight. To give you a comparison, with Vogue I typically sew a size 14 as there is a lot of ease. I not quite a familiar with Simplicity but after seeing this adorable pattern, I will be checking this pattern company out more!
Did it look like the photo/drawing on the pattern envelope once you were done sewing with it?
Yes, I believe it looks a lot like view D, which is the one I made. I am so glad there is an actual photo on this pattern envelope!
Were the instructions easy to follow?
Instructions seemed to be great. I glanced at them and then pulled them back out when I sewed the shoulder band on incorrectly. After that little mishap, I read that step and realized I really need to quit watching HGTV while I sew. I get distracted at times. :)
What did you particularly like or dislike about the pattern?
Likes:
Love, love, love the shaping of the top. There aren't too many t-shirts with waist definition. This one has quite a bit.
I really do love the shoulder band. The way this top is constructed, the seams are on the underside of the band so you don't see anything other than a clean finish on the band.
The length of the top is great, not too short, not annoyingly long.
Did I mention the details? Views A to C are ADORABLE! I also love D.
Sleeve length is really great as well. Not too long or short.
Dislikes
:
I really can't think of anything I didn't like.
Fabric Used:
I used this super bright floral from gorgeous fabric. It has been so dreary lately, I decided I needed some color and wow did this work! If I remember correctly this is a poly knit with some but not too much Lycra. It sewed beautifully!
Pattern alterations or any design changes you made:
I only made one change to the instructions and that was to use 3/8" elastic rather than 1/4". I used the elastic guide included in the pattern and decided I would have some major wardrobe malfunctions if I kept the piece that large in the top. I experimented until I got a comfortable amount around the shoulders: Too tight and every time you move the band pops up to your earlobes. Too little and you will be hiking this up all the time.
I also shortened the straps about 1/2" so they didn't fall off my shoulders constantly.
I made my usual 1/2" swayback adjustment.
Would you sew it again? Would you recommend it to others?
Oh yes, I can't wait to make the other tops. The directions look easy to follow and the styling it so stinkin' cute!
This is a fairly easy pattern. If you have sewn with knits, you'll do fine with this pattern.
Conclusion
:
I love my new top with these light yellow jeans I found in my closet. It is super comfortable and stayed put today when I wore it to a barbecue. DH thinks it is pretty sexy for a 50 year old grandma to be!
Thanks for reading!
Sue