So here is round two of one of my favorite tunics! I just love this under reviewed pattern. It is so very simple, fits great, goes together well, what more could you want?
Just as a reminder, here is the pattern envelope.
.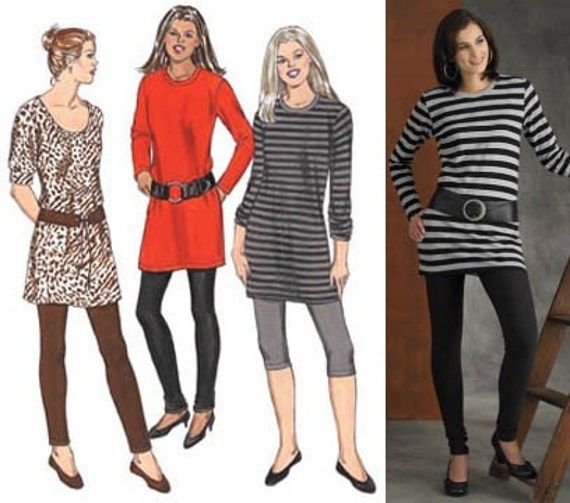 For this version, I obviously made the view with short sleeves and the lower neckline.
Since this was round two, I won't bore you with too many details.
I used a sheer knit from Marcy Tilton.
I love this fabric!
I wore a black cami underneath the tunic. It was easy to sew and I did use pins as the cut edge tended to roll.
From the back of the website: McCall Pattern Company:
These tunics are designed for lightweight stretch knits only with 20% stretch across the grain. We suggest single knit, jersey, and interlock fabrics.

These leggings are designed for two-way stretch fabrics with 75% stretch across the grain. We suggest cotton Lycra®, rayon Lycra®, nylon Lycra®, and swimwear fabrics.

Tunic view A has full-length sleeves and a round neckline with self-fabric neckband. Tunic view B has short sleeves with cuffs and a scoop neckline with self-fabric neckband. Tunics are shown with purchased belts. Leggings, without side seams, have an elastic waist. View A are scrunched at the ankle, View B are ankle length, and View C are below-knee length.
And, here are the line drawings.
Here is what I changed from the original pattern:
1. I cut the neckband on the bias. Believe it or not, I didn't have a piece of fabric large enough to cut on the cross grain, so I improvised. It worked.
2. For heaven sakes, don't set in the sleeves. Sew them on after you stitch the shoulder seam. I attached the cuffs prior to attaching the sleeves. After stitching the sleeves on, I serged from the cuff to hem and then folded the cuff in place and stitched in the ditch to secure it.
3. For fabric this sheer, it was a must to use steam-a-seam lite to baste the hemline in place.
This entire process took about one hour to create from cutting out to stitching the hems. Use a fun fabric and you won't be disappointed! I opted to lengthen the top to the large setting and used a medium through the hips and waist and a large in the chest.
Very comfortable top! Try it!
Sue