Why has this pattern had so few reviews????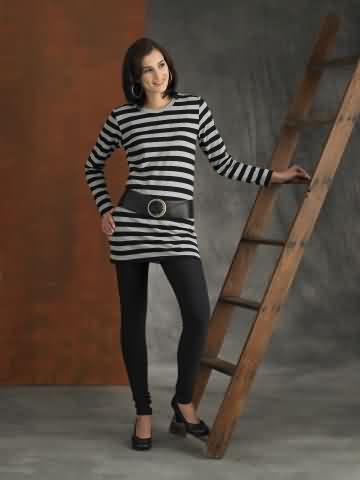 This is a great pattern. It is super fast, stylish, yet easy! Why, why why are there so few reviews? I don't get it! I would show you the line drawings but for heaven sakes, it is a simple, well-fitting tunic and leggings pattern, just use your imagination!
<b>Pattern Description: </b>
From the pattern envelope: Misses' tunics and leggings. Tunic View A has full-length sleeves and round neckline with self-fabric neckband. Tunic View B has short sleeves with cuffs and scoop neckline with self-fabric neckband. Tunics shown with purchased belts. Leggings, without side seams, have elastic waist. View A are scrunched at the ankle. View B are ankle length and View C are below-knee length.
<b>Pattern Sizing:</b>
An awesome thing about Kwik Sew patterns is that all sizes are included in one envelope! It has been a while since I cut and sewed a Kwik Sew pattern, and I had forgotten about the 1/4 " seam allowances! I am so glad I read the pattern pieces so I knew to sew with that narrow of a seam! I also realized how important it is to read the finished garment measurements prior to cutting, especially if it is a pattern you don't sew with much. I made a size medium and I like how it fits: not too snug, but I also don't feel like I am swimming in it either.
<b>Did it look like the photo/drawing on the pattern envelope once you were done sewing with it?</b> Yes, I think it looks just like a blend of view B and A, exactly what I was going for!
<b>Were the instructions easy to follow?</b>
The awesome thing with Kwik Sew is the simplicity and speediness of the instructions.
<b>What did you particularly like or dislike about the pattern?</b>
I love everything abut these tunics. The fit, the length, the neckband width, the sleeve length, ...I could go on longer, but one of my favorite movies is on....
No dislikes at all!
<b>Fabric Used:</b>
I used a poly, rayon, lycra knit from Marcy Tilton. Love it! Such a pleasure to sew with!
<b>Pattern alterations or any design changes you made:</b>
Here is what I changed. This is a short list! I used the neckline on view B, but the long-sleeves of view A. I made my usual 1/2" sway back adjustment and used the XL sleeve and tunic length.
<b>Would you sew it again? Would you recommend it to others?</b>
Oh yes, I will sew this again and again. This is an excellent pattern! I can't wait to try the leggings!
<b>Conclusion: </b>
Why are there only three other reviews for this pattern? I can't recommend it enough! Wow, what have I been missing by passing this one up? If you are a beginner, or want just a simple, well designed tunic, pick this up. It is as simple as that. :)
Thanks for reading!
Sue :)