I really had some high hopes for this dress pattern. It has received rave reviews from SPR and so I thought I'd give it a shot. This is the Barcelona dress by Loes Hines. It was available through Textile Studios.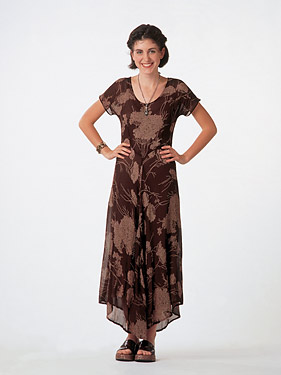 The shape is very simple, almost so simple it becomes just about sack-like. But, I thought I'd try it anyway as sometimes simple shapes are best to highlight a pretty fabric.
I really loved this fabric from JoAnns. It is 100% poly and as light and flowy as a breeze.
It washed and dried beautifully. When you are close-up, it has some places that have a metallic sheen. This is almost impossible to capture in a photo.
Even though I tissue-fit this, it is still difficult to get a flattering fit all around. That swayback...
I made an FBA, sloping shoulder, and swayback adjustment. I am still not happy with the fit.
The skirt is rather full and fun.
This photo captures how I feel about it. Meh. I won't wear it. I feel like I look like an 80-plus old woman, ready for a wedding or a funeral. I will however recycle this fabric into something else.
Thanks for reading...
Two wadders in a row...
Do you ever feel like throwing in the towel?
Sue :)