Have you bought into the maxi rage? It not, why? They are super comfortable, stylish, and require minimal effort on the part of creating. I love maxi dresses. I really feel like I am wearing uber comfy pajamas for the day only I look and feel way more polished than that!
Here is my review for Butterick 6330 a simple little pattern with some wonderful
variations you can make to create your own style!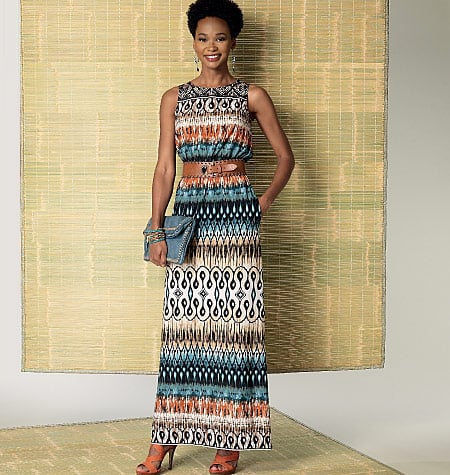 Of course there is more to this pattern than the dress, but I bought the pattern for none other than this dress! I love everything about it!
This pattern is listed as easy and it is super simple to put together, is drafted wonderfully, and you can make it your own depending on your fabric. Did I mention that I found the exact fabric used for this pattern envelope? When I purchased the fabric from Hancock, I knew I loved it and had zero idea what I was going to create with it. Then along came this pattern and I knew exactly what I was going to make! However, sometimes I am dense as I didn't realize that it was the same fabric as on the pattern envelope! And of course, I didn't purchase quite enough so....that required some creativity but I knew I could do it!
I had just enough fabric left to cut a stripe of one of the patterns to make a stripe down the bodice back. I knew I had a lot of this beautiful black knit so I sewed that on and then promptly realized that I had cut the back bodice on the fold, not as two separate pieces. Ugh. What is a girl to do? I mean I had zero fabric left so I simply cut a seam down the center back bodice and seamed it. This probably wouldn't have been a problem but i had already cue a neckband to fit and I had noting left to work with.
I also made armscye bands as well. I like how they finished off the garment.
For version 2, I made it pretty much as version 1, but had enough fabric that I didn't have to add any additional fabric. I did however decide to just fold back the armscye seams twice by 1/4" and topstitch. It worked great. It isn't my favorite finish ever but with a nice fabric, it works.
I love how the gaping at the armscyes is so minimal that you can't see anything to do with my bra at all. Trust me.
The back also covers great as well. I know the print is bright and rather wild, but at the same time super summery! This fabric feels like a dream against my skin. I absolutely love it!
I hope you'll create a maxi dress this summer and if you want an easy and fast one, this is the pattern for you!
Happy sewing!
Sue